Understanding Google My Business & Local Search
Google Removes Adwords Express from Places
Google has removed Adwords Express from the Places Dashboard and installed the product into its own area of Adwords. In accounts that did not have an AdWords Express ad, the AdWords Express Tab has just disappeared.
In accounts that had an AdWords Express Ad, Google has reconfigured the ad at adwords.google.com/express/.
AdWords Express has moved to adwords.google.com/express/.
Things to know about the change:
1) No changes were made to your ads — we just moved everything to a new place!
We left your ads and your other account information just as they were in Google Places. Of course, you can always make changes in your AdWords Express account.
2) You can get to AdWords Express directly by going to adwords.google.com/express/.

We suggest you update your bookmarks to the new address (adwords.google.com/express/) to get to your AdWords Express account fastest. But, we'll keep the AdWords Express dashboard and this link in your Google Places account for a little while in case you forget.

The change is of interest on several levels. The primary marketing interface to AdWords Express (outside of their inside sales staff) has been its prominence inside of the Places Dashboard. There are currently no links within the Dashboard to the simplified AdWords product if you had not previously used the product. The only link referencing AdWords links to the main AdWords site and makes no mention of the Express product. Given that the product is now essentially hidden one presumes that Google is planning some new interface for marketing the product.
While ad creation remains the same, in making the move Google has provided AdWords Express with a new interface which allows a user to add additional businesses and allows for a change of categories for an existing ad WITHOUT returning to the Places Dashboard.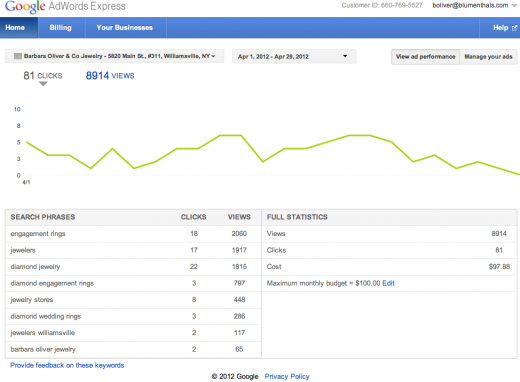 Google has also updated the Help Pages to reflect this change and has provided a comparison of the three products:
A few more things to know:
The lights are still on (or off).
We left your ads and your account information as it was in Google Places. Your AdWords Express account has a new look, but your info has been saved. If you had linked your ad to your Place Page, you can continue to do so.
Your key still works.
Your AdWords Express account uses the same email address and password that you use with Places.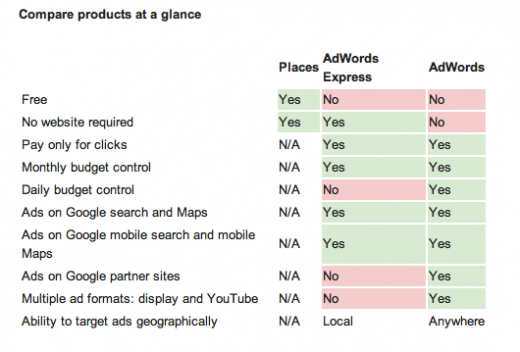 It appears that AdWords Express will remain in Google product line but the lack of a marketing interface, the loss of the connection  to Places and the partial integration into AdWords raises a number of questions.
This move is clearly still a work in progress but raises the question of where and how will Google market this product. Will it somehow be reintegrated back into Places or will it be tied into some as yet unannounced Local interface that will be widely used by the SMB? If neither of the above then how exactly does Google plan on promoting this product or will AdWords Express become another one of their products to just languish in the digital equivalent of the gulag?