Understanding Google My Business & Local Search
Google Testing Call Reporting in Adwords Express
Long a staple of Adwords, a simplified call reporting is being tested in Adwords Express. It is not clear how wide the test is as I found in the Austin market but not in the Buffalo market.
The option is dead on easy to implement and costs $1 for each call made to the number and the amount is deducted from the monthly budget thus reducing the total ads displayed. Reporting, like the rest of Adwords Express and the Places Dashboard in general is very limited although the user can login into their Adwords account for more details. The feature is documented in the Places for Business Help files here, here and here.
The system is easy to use and implement and will be beneficial IF an Adwords Express campaign is beneficial. While the product has improved significantly since introduction and does work well particularly for some low budget situations, there are still severe restrictions that can limit the value of the product.
I do find more than some irony that call tracking is a huge problem for your Google Places listing if used elsewhere on the internet but that Google has implemented it inside of their ecosystem.
Here is the screen shot from the Places Dashboard for creating the ad :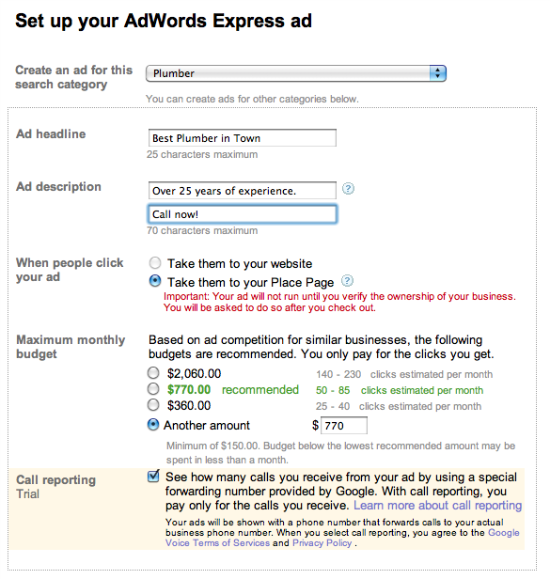 Like in Adwords Call Reporting the ad will include a temporary 877 number