Understanding Google My Business & Local Search
Yext & Local SEO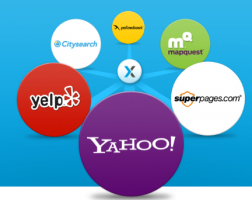 Yext is doing local differently. I don't normally write reviews of commercial products but when they offered me two free listings I decided to explore the value of the service for local SEOs.
In local citation building we have come to expect that it might take 8, 16 or even 20 weeks for a citation to make its way into the search engines. The local ecosystem, a complicated web of relationships and feeds, is to some extent a technology mired in the last millennium. Much of the delay in a citation winding its way through the system has been due to the time it takes the data collectors and aggregators to create their own data builds and move the list to the next point in the local chain.
UBL for example might send data to Infogroup only once every 4 weeks. Infogroup could take as long as 4 to 8 weeks to process and verify a listing. This is particularly true of a new business. Infogroup would then assemble their complete list and feed it to their customer sites periodically, perhaps once a month or even once a quarter depending on the plan that the local directly had subscribed to. Even if the upstream data supplier processed the information more quickly the local directories that utilized this data might only integrate the new listings into their index once a month, once quarter or perhaps only twice a year.
Google, because of their desire to "organize all of the world's information", is one of the more proactive local sites at updating their local index and integrating new listing data. But even for them, with all of their processing power, their internal data "pipeline" would take 4 to 6 weeks for data to be pushed into an updated Places index.
Thus if you hit the timing just wrong it might take 20 weeks (or more) for a new listing citation to wend its through the maze that is the local ecosystem and appear in Google's Places index.
Yext has taken a different path to data distribution. They have built technology that pushes local listing data and its enhanced content to its participating directories in near real time. With their product a local business or an agency can claim and enhance their listing with photos, hours and offers and expect to see it at a number of top tier directories and local search engines within hours or a few days. Participating directories include names like Yelp, Yahoo, Superpages, Mapquest and CityGrid and 28 other directories, IYPs and local sites.
Yext also provides a single login and dashboard, a very fast and functional user interface for data entry, mulit-level management of the listings and some reporting of listing views from the sites that use its service.
Compared to entering the listing data at these many sites by hand, it is both more accurate and a big time saver. But it comes at a fairly steep price. Yext's business model is to charge $495 per listing. To incent their participating directories roughly 50% of that fee is shared. The service is efficient and there is a certain thrill to watch listings pop up so quickly.
Here is a some of my findings.
Time to live:
Late on January 13th I created two Yext accounts. Every time that a listing goes live with one of Yext's participating directories and email is sent to the account holder. One listing went live within the hour and over the next 36 hours many of the other listings went live. There were a few stragglers but by January 19th all of the listings had gone live except CitySearch which took 21 days. In the case of Yelp neither listing went live. In Barbara Oliver's case it was due to the fact that the listing had already been claimed at Yelp. In the case of PBM Elder Law, the client was executing a name change that was not yet reflected on the client website and Yelp rejected the listing. It will be resubmitted once the client side work has been finished.
Total Citations Generated:
I used Whitespark.ca's citation measurement tool to assess citation growth in the main Google index (no tool can measure citations in the Google Map index). A regular citation search collects all the citations it can find in Google's index. A re-run performs the exact same procedure at a later date, compares the old list with the new list, and appends any new citations found to the list. The system does not currently track citations that have dropped from the index (which Google periodically does), but it will soon.
I tracked citations for the following two businesses, Barbara Oliver & Co Jewelry where most of the directories in the Yext corral had already been claimed and a virgin listing, PBM Elder Law. The former had a lot of claims the second has virtually none. In both cases it added 5 to a regular run and about 20 to an append and rerun.
| | | |
| --- | --- | --- |
| LISTING WITH PREVIOUS CLAIMS | SEARCH DATE | CITATIONS |
| Barbara Oliver ((716) 204-1297) | Feb 22, 2012 | 83 |
| Barbara Oliver & Co Jewelry ((716) 204-1297) | Feb 1, 2012 | 79 |
| Barbara Oliver & Co Jewelry ((716) 204-1297) | Jan 15, 2011 | 78 |
The rerun/append to comes in at
| | | |
| --- | --- | --- |
| Barbara Oliver & Co Jewelry ((716) 204-1297) | Jan 15, 2011 | 99 |
;
| | | |
| --- | --- | --- |
| LISTING WITH NO PREVIOUS CLAIMS | SEARCH DATE | CITATIONS |
| PBM Elder Law (716 204-1055) | Feb 22, 2012 | 56 |
| PBM Elder Law (716 204-1055) | Feb 16, 2012 | 54 |
| PBM Elder Law Buffalo | Jan 15, 2012 | 51 |
The rerun and append comes in at
| | | |
| --- | --- | --- |
| PBM Elder Law Buffalo | Jan 15, 2012 | 74 |
Listing views:
Yext provides some reporting about total searches and listing views from the sites where they send data. It is minimalist to say the least and, unlike the listing, is delayed several weeks. January 14th Through February 12th the listing had been viewed 27 times.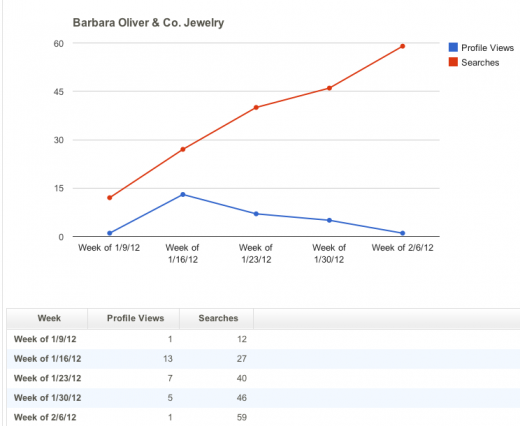 Site Visits:
Barbara Oliver generates between 800 to 1000 visits a month. Local IYP traffic has always been a very small percentage of that traffic. For example during the timeframe (January 14-Feb 22) during which I measured the citations the site generated a total of 1281 visits. 865 of those coming from Google search and 9 coming from Google Maps. We saw a small uptick in citysearch from one to 6 visits and a small downtick in Yahoo local visits. The sample is much to small to make any conclusions about site traffic value. But that would be true of the traffic from most IYP sites regardless of Yext.
Value:
So whether it is worth $495 or not I am not sure.
Pluses:
-From a management and process point of view for the local SEO the service makes sense. Its fast and efficient and provides some tracking. What would take 6 or 7 hours is done in 15 minutes. If outsourced it would cost in the range of a $100 but the quality and consistency would not be as good.
-It seems to generate between 5 and 6 additional citations that Google thinks are important. Why that should be the case with listings that have already been claimed is not clear.
-The service allows for specials to be easily created and disseminated quickly and things like hours to be changed in a timely fashion.
-There is some reporting and there is decent multilevel management so an SEO can allow clients to access their own reports.
-If a business were to move or change phone numbers it provides a very efficient way of grappling with that issue.
-Whether you use the service or not, Yext's Local Search Scorecard is a great way to assess NAP consistency across a wide range of sites.
Negatives:
-The reporting is lame. Although in conversations with Yext's Howard Lerman, they will be adding additional features and color. One of particular interest will be review tracking.
-The cost in and off itself is expensive and it is an annual recurring cost. There is a small reseller discount that starts at only 5% and with enough volume goes up.
– Web traffic from these sites is small compared to Google and even comparing to Bing or Yahoo. But that isn't Yext's issue.
My conclusions:
Making Local more efficient is a net plus. Certainly the time saved and efficiencies gained have real value in any busy SEO firm. But given the annual costs, many smaller businesses and a fair number of local SEO's will find the price too high. A higher volume discount would be compelling as would a second year pricing discount.
If you are managing businesses that do well in these types of directories (lawyers etc) or have very high transaction value then this service makes all kinds of sense. A single sale for a PI Lawyer (for any lawyer for that matter) or a Jeweler can easily pay the annual cost.
Its not for every SEO but I personally find the service valuable and will use it for appropriate clients.
Do you use Yext? What is your opinion of it? Do you find value for your agency?