Understanding Google My Business & Local Search
411 Locals Back in the News
411 Locals has been implicated in widespread Places listing sabotage and accused of threatening an SMB. Well they are back in the forums with this recent report of their widespread spam. You can't keep a good black hat down.
Poster HoskinsRick noted a range of examples of spamming that shared a number of features; keyword laden business names, either superpages or keyword focused domains, Place Page updates that referenced the address or domain name, plenty of fake reviews, royalty free photos and spot-on centroid locations:
Placentia Accident Attorney
Accident Attorney Raleigh
Accident Attorney Hartford
Accident Attorney Irvine
Accident Attorney Oklahoma City
Accident Attorney Oklahoma City
Accident Attorney Indianapolis
Accident Attorney Philadelphia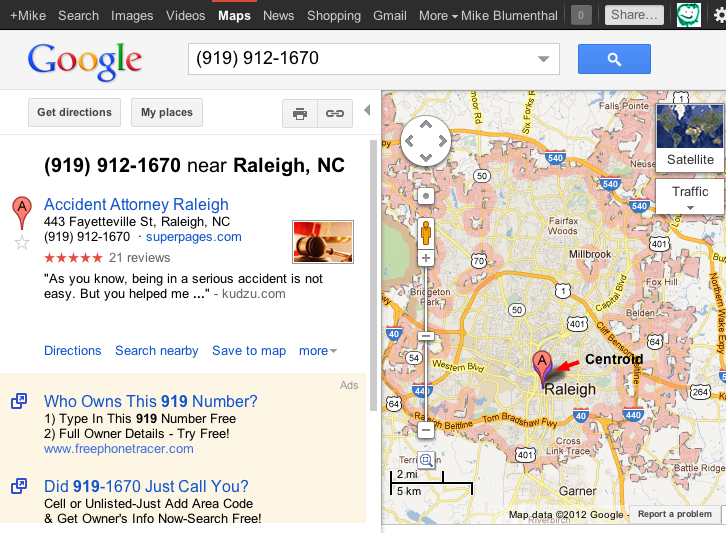 I can not say with 100% assurance that all of these are from 411 Locals but I called the first 4 or 5 on the list. Most of those forwarded to the same unanswered cell phone message. The one that didn't was clearly not located where the business listing indicated. And LAWYERPLACENTIACA.INFO (and several of the other domains of the domains did but no longer do) resolved to 411 Locals.
411 Locals is no small actor and they are rumored to use a number of "dirty" tactics including closing competitive listings and changing descriptions just before month end with keyword heavy focus so that they showed a higher temporary ranking in client. I have spoken with several of their ex-clients (those that would speak with me as a number refused any comment) and they reported overly aggressive and threatening tactics. It is speculated that they have worked on 16,000 business listings and could have as many as 8000 active clients. While Google is certainly aware of them and has implemented some changes at scale to mitigate their efforts, clearly they are still active.
Have you run into them in any way? Have you seen their listings or spoken with previous clients?