Understanding Google My Business & Local Search
Google Places: What does the "new" Business Permanently Closed process look like?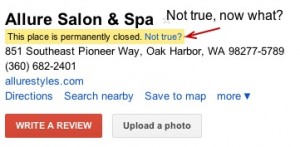 In response to the NY Times article on problems with the process for showing a business as closed that led to spammer induced closings, Google announced that they had pushed a "fix".
Through experimentation, Google's comments and feedback from Google's PR folks I have pieced together the likely "flow" for the current closing and the reopening process. These steps apply in the US but may or may not apply elsewhere in the world.
I am looking at this process from the outside so I may have missed something. If you have tested it yourself or have additional information please let me know:
| | |
| --- | --- |
| User Tags Report a Problem – Business is Closed | One attempt at the "Report a Problem" process seems to be enough to get the ball rolling. In my closing experiment last week, we flagged two businesses. The strong one showed no change, the weaker one was "closed".In my test, one click was enough to start the process but in some cases it may take more than one report. |
| The "Reported to be Closed" NO LONGER shows on the listing | This is one of the big differences in the new process. The listing in Places sits unchanged pending human review. This intermediate state of "reported to be closed" that used to shown has been removed and is no longer displayed. Source: Google Lat Long Blog |
| The closing issue/listing goes to the MapMaker team for human review  | There is now actual human review going on. Source: Joel Headley in a comment on Google+ |
| The team determines if the business is open (from afar so mistakes can be made) | If a business has strong signals, the business is left open. If however if there are signs that the business is not real or the it has gone out of business it will be tagged as permanently closed. In my case, a business with a weak signal was erroneously closed.Given that this decision is made from afar, errors can occur.Whether multiple reports influence the issue is still unclear. |
| The "Business is Permanently Closed. Not True?" flag/link is attached to the listing | If nothing else happens to the Places record, the business listing is deprecated and after some short timeframe is no longer displayed the main search results and ultimately (how long?) removed from the visible index. |
| If the business is closed and the listing is claimed an email is supposed to be sent to the claimant | I have learned from Google engineering via their PR staff that there is a bug preventing the email from being sent some or even most of the time.Google has noted that "We've identified the cause and are working on rolling out a fix soon". When that will be is not yet clear. |
| The business owner can report this is "not true" on their Places listing | I reported my location as not closed 3 times. For me, this action precipitated  a call in less than 24 hours. Perhaps because I reported it as open more than once, we received two calls at our erroneously closed location from two different off shore workers inquiring as to our business status. We were asked a number of questions about our website and our categories. |
| The "permanently closed" tag is removed | How long this process will generally take is not clear.The "permanently closed" tag was removed from my listing shortly after the first call and the total time marked as closed was less than 24 hours. However, I have a high profile and this may or may not be the normal response time.I have spoken with  Jessica Vanvelkinburg who has reported her business, Allure Salon & Spa, as not closed and has waited 12 days with no results. |
The upshot?
The process is dramatically improved. That being said it still needs refinement. It is imperative that the currently buggy email feedback to the owner be fixed.
I would add that an automated phone call to non-claimed records would be appropriate as well. It is also critical that the "time to fix" an erroneous report be consistently in the 1-2 days timeframe and not in the weeks territory.
Given that the process is still evolving and not yet fully baked, it may still necessary for a business owner to check their listing periodically for the "permanently closed" flag.
It is not as easy to tag the listing as it was but there is still a chance that a listing will be erroneously tagged and that you won't be notified. If you do report an erroneously closed listing as open, it is not clear that it will always be repaired in a timely fashion.
Better yes, much better yes. Good enough? Not yet.