Understanding Google My Business & Local Search
How Much Freeer than Free Can Free Be?
Stever of Axemedia passed this Register.com email solicitation along to me. It is a deceptive ad that attempts to leverage Google Places as a benefit to the package. How much freer than free can free be? I suppose that the offer revolves around some claiming package but is amazing to me that a company of Register.com's stature would attempt to leverage Google's good name in such a way.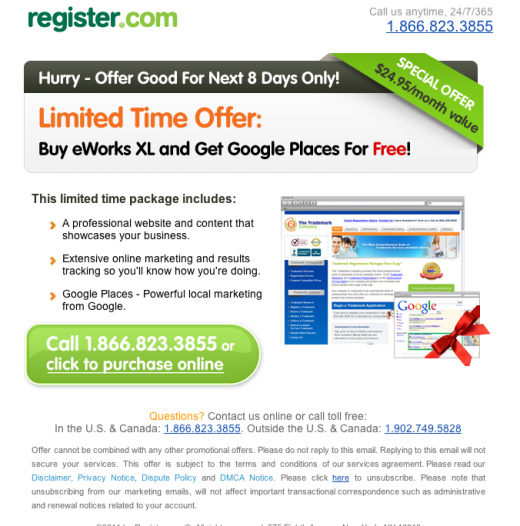 Worse is yet to come though. When you click through to the website, you are offered a Free Website to along with your free Google Places listing. The offer that you thought was $24.95/mo. turns out to be $94.95/month. What you are actually buying, despite the immediate call to action, is not clear nor is there any way to achieve clarification other than calling.
At the end of three years a business would have spent $3418.20. It appears that the business will have received a website of indeterminate size with some keyword laden copywriting, a Google Places listing, a listing at one or the primary data suppliers to the GPS industry and some reporting…. probably Google Analytics. The package could be worth it, who knows. The level of misdirection and slight of hand makes me doubt it.