Understanding Google My Business & Local Search
Google Boost Now Becoming Adwords Express
Mike Ramsey of NiftyMarketing, a local search marketer from Idaho, sent along this screen shot reflecting a name change to the Boost product:
——-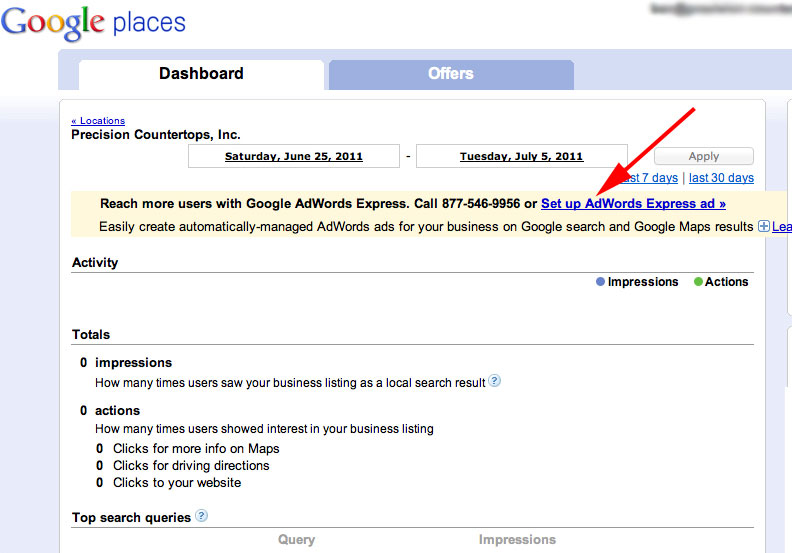 ——-
The change has not yet made it over to the Boost Help pages. Certainly it makes sense from a branding perspective to leverage Google's well known, existing ad brand although I doubt that it will make the bidding basis of the pricing more obvious.
Update 2:17
Google has just posted their announcement:
Making local online advertising easy with Google AdWords Express
Updated 1:00 p.m EDT:
I just got off the phone with Kiley McEvoy, Product Manager Lead on Boost Adwords Express at Google to let me know that Google will be formally announcing the rebranding of the Boost product shortly.
Here are some of his comments:
We have seen great success with the Boost product and signup rate and to better indicate its ties to Adwords we are going with new name.
We have seen users in all 50 states and tens of thusands of customers. I spend a lot of time talking to customers and the main piece of feedback is that they are surprised by the simplicity. The product is so simple that it has allayed fears of involvement in on-line advertising. A pizza shop that was getting 30 clicks per day had to pause their campaign due to significant increase in business.
I did inquire as to specific numbers or percentage of claimed accounts using Boost but he was unable to be explicit.
He indicated that there is a new requirement, introduced a number of weeks ago, that an Adwords Express ad be created for each category. With this better targeting,  users will be less likely to see large jumps in bid pricing that I experienced in my "legacy" ad campaign that had one ad with two categories.
He also noted that there is a new signup procedure flow (now visible here) that allows a business to sign up for both Places and Adwords Express simultaneously. In the new process, verification required for the Places listing, is no longer required for an Adwords Express ad to start to run. The ad can run independtly of an approved Places listing as long as the ad point to your website. If a Places listing is rejected or suspended the ads will continue to run.
This YouTube Video just went live: