Understanding Google My Business & Local Search
Graphic: How an SMB Solves a Problem in Google Places
As I read of Google's newly stated public commitment to better customer service in Google Places, thoughts of a myriad of current issues swirled through my head. After mentally struggling through 10 or so current Places problems, the miasma settled around this one issue that I thought I could use to illustrate what an SMB confronts with the current "customer support" system.
The following is an actual example of a how a business affects a solution to the situation of their name triggering the "Term not Allowed" filter in Google Places. Any similarity to these drawings (of Rube Goldberg) is strictly coincidental.
(Click to view your very own printable, full size, Ed Reese Style, infographic of the current process)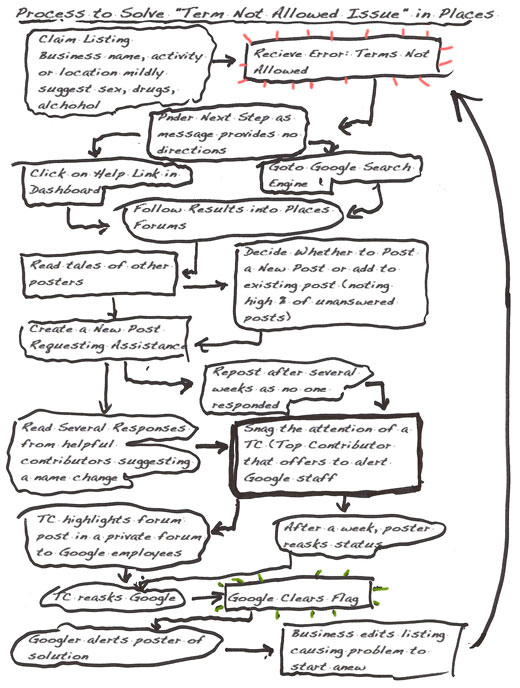 While it might have its own uniques twists and turns, this chart is typical of the current methods available to an SMB to solve the dozen or so problems that can crop up in Places. As many of you know some of the solutions are actually more complex. One has to wonder just how many SMBs give up prior to solving their specific difficulty.
Google is staffed with lots of smart people who understand how to solve these types of problems. Usually, I refrain from making suggestions about specific fixes but I just couldn't resist given that the iron might now be hot.
Here is a second chart that offers a suggested alternative flow that automates a fair bit of the solution. However the SMB might actually come away thinking that Google had provided "good customer service":

(Click to view full size infographic of proposed process flow)