Understanding Google My Business & Local Search
Google Places Search: Hiding Address No Longer Buries Listing
Update: While the Hide Address feature does not impact Blended results it STILL impacts Maps and 7-Pack results from showing so use with caution.
The new Google Places Search has its winners and losers. For one group though, it is turning out to be an incredible plus – those home based and service businesses that don't want to show their address.
In March of this year when the feature was first released, the hide address/show service area feature hid more than your address. It hid your listing by burying it so deeply that it would take a back hoe to find it. It would only show for direct name searches and never return for a category search, even if well optimized.
Now if you choose to hide your address in your Google Places Dashboard you can still show front and center in the blended organo-local results. For example if you search for Baton Rouge Signs and look for for the company Greater Baton Rouge Signs, long missing from the Local results because of a hidden address, you will find them once again on the first page of the main page results: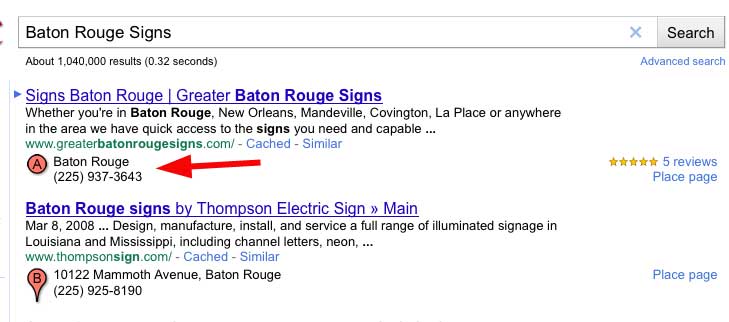 Obviously, this result is subject to all of the caveats of the new blended Places Searches. The most obvious and critical requirement being the existence of a strong locally optimized website to compliment your Places listing. To some extent it demonstrates the relative weighting power of organic vs local strength in the new ranking algo as this listing was consistently on the third and fourth pages of Map results under the 7-Pack algo and now shows at A & B.