Understanding Google My Business & Local Search
Google Boost – More Details
Update: Apparently the nationwide rollout of Boost was an early morning quirk that has been corrected. Boost now only showing in San Francisco, Houston & Chicago according to Chikai Ohazama, Google Maps Product Manager.
Apparently Google Boost is appearing across the whole of the US and it is not limited to any specific markets. It is visible in Olean, NY, VA. as well as the whole of California.
Ad Creation:
Here is the set up screen with some arrows pointing to items of interest in the setup and subsequent processes: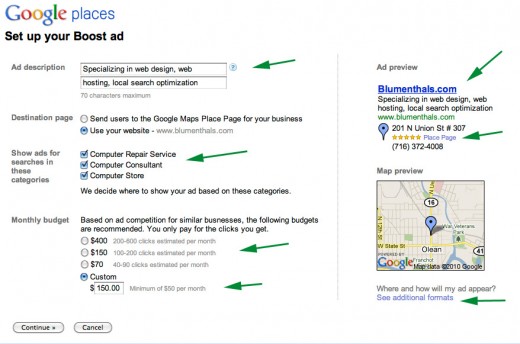 Ad Creation:
Left Arrow 1: The verbiage for the Ad is automatically extracted from the 200 character description but the business is allowed to change it.
L. Arrow 2: The ad only shows for categories that are in Google's category list. Custom categories will not show the ad.
L. Arrow 3: The estimated clicks per month do vary depending on market and categories selected.
L. Arrow 4: There is a minimum of $50/mo to start the program.
Right Arrow 1: The ONLY ad title allowed is the business name as defined in Places.
Right Arrow 2: If stars are available from reviews they will show in the ad.
R. Arrow 3: Apparently there are other formats that will be made available but the link is not yet working.
Payment:
If you already have a credit card on file from Tags or Adwords, Google will automatically use that: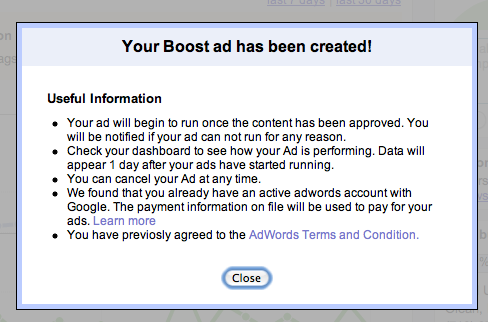 Once the ad is created you will see the following: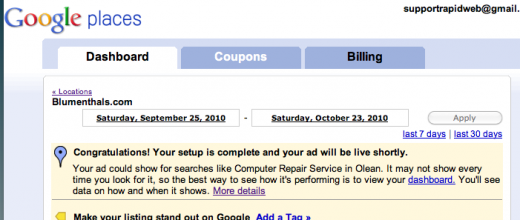 To cancel, go to the Billing Tab and select deactivate:

It will take you back to the original creation screen where it is necessary to select the not very obvious "Deactivate Ads" link at the bottom: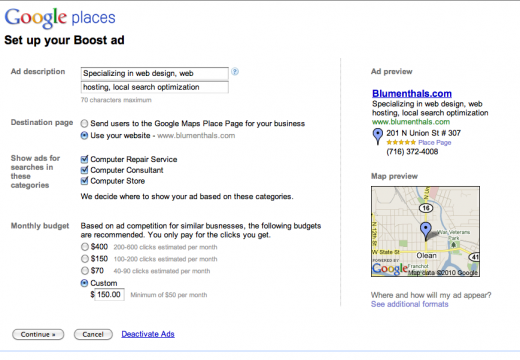 When the ad is successfully deactivated you will see: