Understanding Google My Business & Local Search
Yahoo Local Filled with Locksmith Spam
I look at Yahoo Local rarely and report on it even less. However, my lack of attention to it doesn't mean that Locksmiths are not interested in playing there. And while this is old news, with Google Places having become a difficult place for them to play, locksmiths have moved on (for the most part) to the next easy pickings. I am sure that the exposure is not as great but a small fish is better than no fish at all and one can still marvel at their audacity.
Jeff Magner of Trumpet Local Media pointed out this search for watch repair in Boulder, co at Yahoo that turns up locksmith spam even in categories as unrelated as watch repair. When you do search on Locksmiths the results are "impressive" with the top 4 listings each showing more than 450 reviews each.
Since Yahoo's algo so heavily favors review count, they appear to be in an arms race with number 3, Boulder Locksmith Service 24/7 having gathered over 400 reviews since the first of August… a clip of almost 7 reviews a day…. The number of their reviews alone amount to 1% of all households in Boulder. The top 4 listings have procured reviews from over 5% of the households. No small task that. 🙂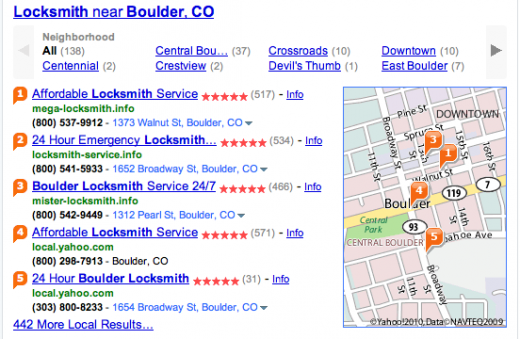 Obviously, as Jeff pointed out in his email, this decay doesn't just affect the locksmith listings but has moved out and is polluting other categories as well. I recognize that Yahoo has other things on their plate. But unless they are going to proactively manage local they should be selling it off to Microsoft as well.