Understanding Google My Business & Local Search
Google Adds Slideshow Option to Place's Photos
Google has just announced on the Lat-Long Blog that images on a Places Page, whether uploaded by the owner or included via Panoramio, are now viewable in a slide show mode. From the Lat-Long blog:
Today, we're offering you a better, more streamlined way to view these photos. With this new feature, you can easily flip through a whole collection of photos and find the sites on the web that have relevant pictures of a given place. Photos that have been uploaded by our Panoramio or Google Places users will appear in high-resolution as an overlay when users click on them. For photos from other sources, you can easily click on a specific photo to see more and visit the site it comes from.
This simple and intuitive online album experience makes it easier to explore all the wonderful photographs of places all over the world.
The album like slideshow is invoked by simply clicking on any one of the photos on the Place Page. While in this mode, the Places Page is used as a dimmed backdrop and the viewer is allowed to move easily from one enlarged view of the photo to another. The only option available to the viewer are to close the show or report the photo as inappropriate.
The slide show is not exposed in the Local Universal results on the main page search results and requires at least two clicks before you can see it. Thus, as currently designed, it is unlikely to get much viewership. There are no options to embed the slide show on your website and no link directly to the slideshow is provided.
All recent enhancements to Places have several things in common; trying to keep the user in Places or move them to another Google product. This has been true on the desktop and in mobile with many changes affecting both simultaneously. Google obviously has an eye on increasing user engagement and page views so as to increase visitor loyalty and to be able to deliver more ads. This upgrade, while desktop only at this point, focuses on the engagement side. It is unclear when and what form it will take for mobile.
It is understandable that once Google has you this far into Places, they want to keep you there via this new feature but it would also make sense for Google to provide an ability to present the slideshow via an embed option or a direct link as well.
(click to view larger)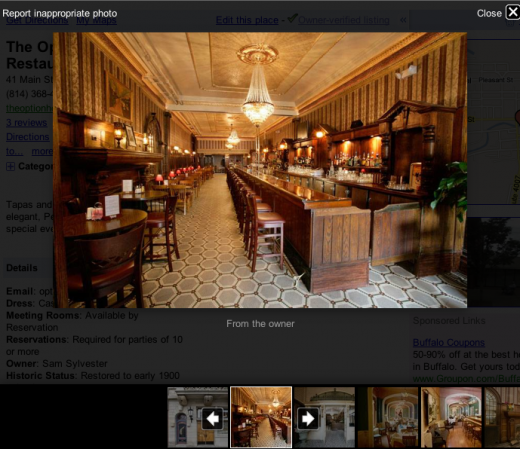 If you click through to Places page for the Option House Restaurant and click on an image to go thru the slide show it becomes obvious why it now makes sense to upload photos at the maximum size allowed by Google Places (less than 1MB and 1024 x 1024 pixels).
Interestingly, when there are photos from other sites (not Panoramio or Google), they show at the end of the slideshow in thumbnail form with an option to expand them. However, when clicked they spawn a new window for the 3rd party site. Sheesh… did anyone say portal?

You can see this in action at this Places Page: