Understanding Google My Business & Local Search
How Will Google Instant Affect Local Search?
Google Instant, Google's new predictive search result product, is being widely hyped…the end of SEO, not the end of SEO… While it is unlikely to be apocoplytic and end SEO as we know it, it does seems destined to change searcher behavior. That change is likely to affect SEO tactics in general and local SEO in particular.
Will the searcher stop sooner in the search? Will the searcher choose from the drop down or from the main results? Will they continue with their initial search phrase?
Imagine a client that is getting good search traffic on a long tail search "Orlando criminal defense attorney". Note that Moses and Rooth Attorneys at Law  is F in Local and #2 organically.
Now though lets try it as a user would experience the search with Google Instant. As the use gets to the "n" in typing "orlando crimin" there appears a relevant search results (#2, again Moses and Rooth) AND a relevant drop down, orlando criminal attorney but no 7 Pack: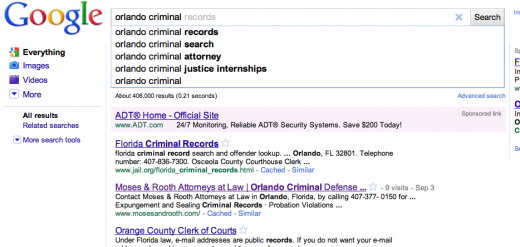 At this point, it seems unlikely that the searcher will continue typing out their original query. What they will do is unclear. They may just choose the website and visit it or see the phone and call. If they choose Orlando Criminal Attorney from the drop down, where they will see a 7 Pack that provides different results than the original long tail search. Regardless, it seems unlikely that the user will make it to the long tail search with which they started.
It seems clear that SEO is not dead. It does seem likely that searcher behavior will change and SEO will need to change with it.

Full disclosure: Moses and Rooth Attorneys at Law, Orlando criminal attorneys, are currently clients.