Understanding Google My Business & Local Search
Google Reviews – Business Owners May Now Respond Directly
Reviews have long been a sore spot between SMBs and Google. But Google Places has added a new feature that will go part of the way in providing SMBS salve for some of their "review wounds". Google is now allowing business owners to respond directly to reviews.
Starting today, if you're a verified Google Places business owner, you can publicly respond to reviews written by Google Maps users on the Place Page for your business. Engaging with the people who have shared their thoughts about your business is a great way to get to know your customers and find out more. Both positive and negative feedback can be good for your business and help it grow (even though it's sometimes hard to hear). By responding, you can build stronger relationships with existing and prospective customers. For example, a thoughtful response acknowledging a problem and offering a solution can often turn a customer who had an initially negative experience into a raving supporter. A simple thank you or a personal message can further reinforce a positive experience. Ultimately, business owner responses give you the opportunity to learn what you do well, what you can do better, and show your customers that you're listening.
Before writing your first response, we recommend reading our handy tips on how to respond to reviewers. Then take a stab at responding by following these instructions. If you have not yet verified ownership for your business on Google, please visit Google Places to claim your listing.
If the business listing is claimed and you are logged in as the same user that claimed the listing you are now presented with an option to respond directly to users reviews.
(click to view larger)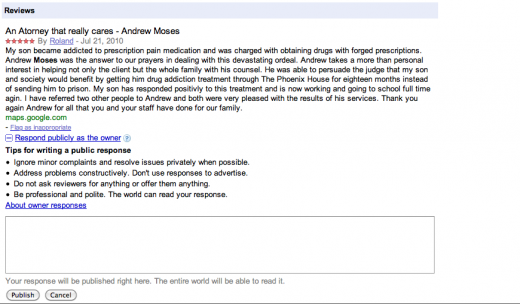 Hopefully this is a first step towards providing business owners both more understanding of how reviews work as well as tool for dealing with them in a positive way. It is a feature that will be widely accepted by business owners and moves Google's Places one step closer to the ideal of a SMB reputation management environment.
Responding to reviews is a double edge sword and can, if not thoroughly thought out, cause many more problems than it solves. A well planned approach to responding to reviews is absolutely critical.