Understanding Google My Business & Local Search
Google Tags – Do They Help? An Anectdotal Review
Google Tags rolled out nationally at the end of June. Several questions that have been often asked about Tags are: How well do they perform? & How do searchers respond to them? Do they attract additional business?
I have one client, Moses and Rooth Attorneys at Law in Orlando, that added the tags immediately after their national rollout on June 28th. We now have 4 weeks of before and after data so as to be able to compare results. While it is only a sample of one and should not be construed as representing a general truth, the results seem promising.
We chose the "coupon" Tag not so much for the coupon value but so as to be able to add content to the listing. While the coupon itself didn't generate very much direct activity,   the overall "actions" were significantly higher on fewer "impressions" . The listing received more than a 100% increase in the number of actions while the listing received ~20 % fewer impressions.
| | | |
| --- | --- | --- |
| Time Frame | 5/31-6/28 | 6/28-7/26 |
| Impressions | 2586 | 2001 |
| How many times users showed interest in your business listing | 35 | 76 |
| Clicks for more info on Maps | 3 | 12 |
| Clicks for driving directions | 0 | 12 |
| Clicks to your website | 32 | 52 |
(click to view larger)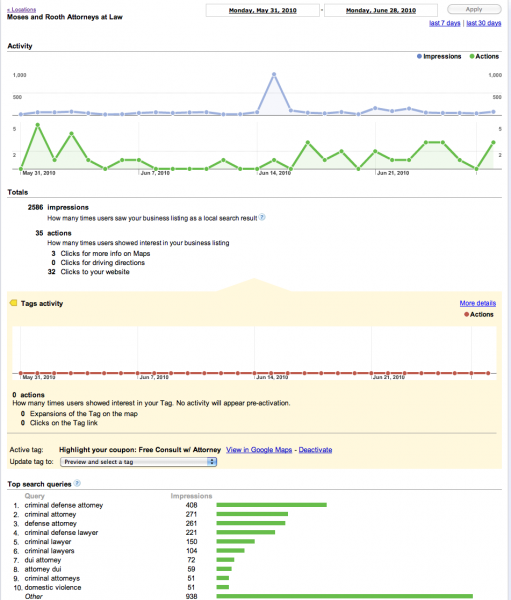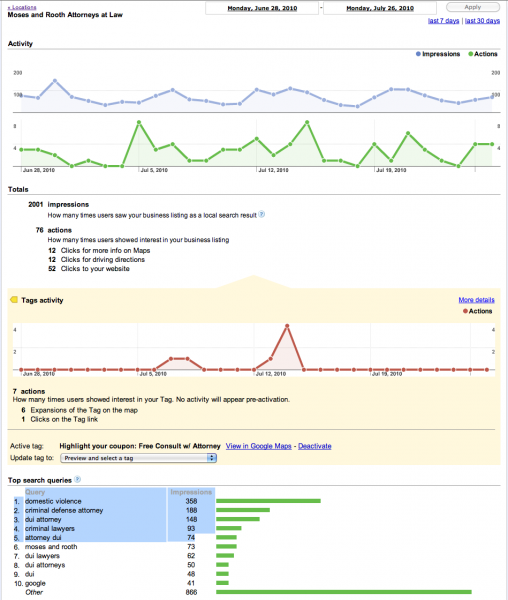 I would caution that this result can not be taken as a general guideline for success. It is a single month's comparison for only one listing and the reliability of the statistics in Places are erratic at best.
The results are likely to be different in different industries. It is also very early in the life of Tags so very few other lawyers in market had yet taken advantage of them (only one other showed in the search results). That all being said, it does appear to have had a positive influence on end user actions.
What have been your experiences with Tags?