Understanding Google My Business & Local Search
Will the Real Google LBC Ad Please Stand Up!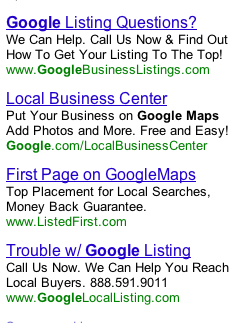 I am not an Adwords expert and do not follow closely the issues around brand integrity etc with Adwords. I do know that Google has been criticized in the past for being too liberal in allowing others to leverage a brand and also they have been criticized (although exonerated) for allowing deceptive ads to be shown.
I find it ironic that they should in fact suffer the same fate with their ads promoting the Local Business Center. When you do a search for something like Google Maps Place Rank you are now shown ads that look like they might be from Google. What do you get from these Google Wannabes (both are in fact owned by the same company) for $299?
We GUARANTEE GOOGLE APPROVAL & INCLUSION OF YOUR LISTING!!
Impressive claim eh? When I showed the ads to my wife (a small sample indeed but the only civilian at hand), she was angry that Google would claim the top two spots for themselves.
It does appear that these ads do violate Google's Trademark policy. I guess someone at Google should report this violation to Google so that potential users of Google's LBC are not deceived.