Understanding Google My Business & Local Search
Google Maps & Web Designers: Salt in the Wounds
With the recent brouhaha over the missing 7 packs for SEO and Web Designers due to "lack of local intent" on the part of searchers, you would think that Google would have the common sense not to rub salt in the wounds. Well, you would have thought wrong.
Whether by intent or accident, Google is still showing an Adwords campaign when a user searches on the phrase "web design + city" that offers up (of all things) a free Places page as a solution to the query: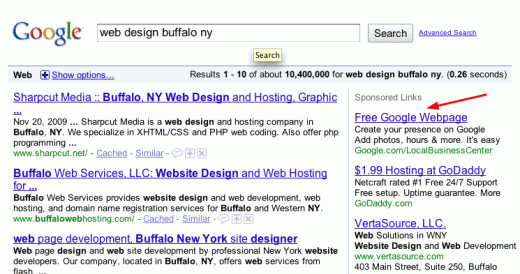 I am no Adwords expert, nor do I know the rules by which Google decides to run their own ads vs. those of paying customers. However in this particular campaign, ads always appear as the first ad in the upper right corner of the main search results page, big city or small, US or Canada. It is hard for me to imagine how an ad for a Places page would have a very high quality score on this particular search.
To say the least, I have always thought that Google lacked a certain finesse in their PR moves in Maps. They seem to possess a veritable tin ear when it comes to interacting with the local web design and search industries that serve SMBs and as Miriam so eloquently points out, it must be baffling for any SMB attempting to interact with them.
Regardless of the reasons that Google pulled the 7-pack for those in web design and marketing, this ad ends up looking like Google is the beach bully attempting to kick sand in everyone else's face. There has to be a better way to market the Local Business Center.