Understanding Google My Business & Local Search
Google Maps Adds New "Report A Problem" Link for Business Listing Spam & Errors
Google has recently added a "Report A Problem" Link for reporting business Listing spam & errors from within Maps. The link is available via the business listing info bubble where once you select "Edit" you are presented with a "Report A Problem" link that takes you to a short form.
According to Google Guide Cecelia this "is the best way to report spam because it gives us the most information possible. Our team can see which specific listing has an issue, whereas the form only asks for a URL. Sometimes these URLs are broken or people forget to add them".
The current mapspam reporting form is still available but apparently, over time this new feedback mechanism will replace the mapspam reporting form in an effort to bring "the report closer to the product".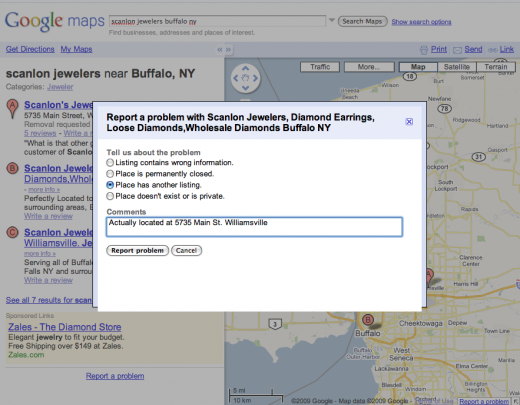 The feature is mostly available in all countries which have the community edit feature. Although not all countries so noted in the chart as having community edits have the report a problem feature. In Canada is available on main Map listing view near the bottom and is only available on those listings that have already been claimed. Additionally, in the US only, a user report can be filed against an already claimed listing.
Maps Guide Cecelia noted that the "time frame [for spam removal] most likely varies based on the number of reports we receive". Spam removal has been a point of frustration for many SMBs as Google has been more likely to use the information for algo tweaks than to remove the offending spam. This is a practice that often leaves egregious spam in place for months on end with no indication when if ever action would be taken.