Understanding Google My Business & Local Search
Google Maps Local Listing Ad Spam & Other Notes
As Google Local Listing Ads rollout it is no surprise to see spam creeping in and potential trademark questions once again coming to the fore. Pierre Kairouz has shared a screen shot with me for the search taxi San Francisco which brought up this Local Listing Ad. It is interesting in two respects, the use of PO Box for the address and the obvious business title manipulation. The domain taxicabcalifornia.com leads to a website with the business name of Yellow Cabs CA and a whois address in Mountain View. The taxi industry is not a new comer to mapspam but it will be interesting to see how Google enforces its guidelines on PO Box and business name going forward as the ads become more common.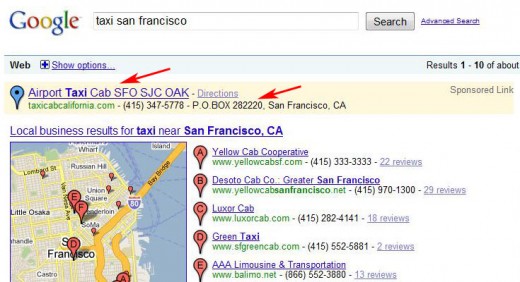 The keyword crammed business titles are notable in this result as well:

The other interesting issue presented by business name keyword cramming and Local Listing Ads is the possibility of trademark violations. This search for computer repair San Francisco Ca brings up the following ad: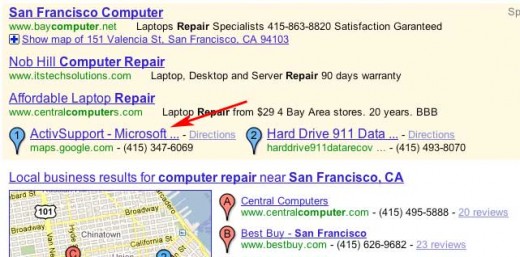 The ad, while in likely violation of Google's listing guidelines, is not in violation of Google's Adwords US Trademark rules as the lister is an active seller of Microsoft products. The ad which goes to the lister's Places page, does however raise the question of appropriate trademark use in both the business title, categories and descriptions.
It also appears that the Local Listing Ads are rolling out across more and more categories in the San Francisco & San Diego markets including salons, plumbers, auto parts and even locksmiths. However it is not yet available in all categories. Cathy Hillen-Rhulloda recently noted that florists in these markets have not yet been offered the Local Listing Ad opportunity.