Understanding Google My Business & Local Search
Merchant Circle: How are they profiting from your business name this week?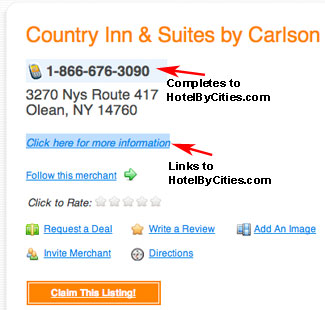 Merchant Circle has made a fine art out of leveraging the very long tail of local search by returning results in the main Google SERPs on virtually every U.S. business' trade name. They have carefully optimized their pages and link structure so as to be frequently highlighted in Google on "business name + locale" type searches. They are so good at getting these pages indexed and ranked that it can be used as a tactic to help a new business that needs exposure show up quickly in Google's index.
They have, over the years, developed a number of models to profit from this form of search arbitrage, some less savory than others, some not very savory at all.
Their newest "tactic" seems to fall into the less savory category. Merchant Circle has apparently replaced the primary display number for many of the hotels in their US business listing index with an #800 for HotelsByCity.net. HotelsbyCity.net is a affliate model hotel booking site that is a member of Priceline's Partner Network. Rob Mauer, Partner Relations Manager at Priceline, confirmed that this relationship was initiated by MC (that was just before he ended our phone conversation, go figure).
One presumes that Merchant Circle is getting their share of the 20-30% of the hotel reservation that HotelsbyCity.net receives. It is not exactly clear, exactly on how many hotels MC has added this number, but it appears to be most of them, and that is a very large number. Google unfortunately, stops displaying results at a thousand but shows a total of 84,900 for a search on this particular phone number.
It is not clear, if once a listing is claimed, the number is still replaced. It is does appear that the Hotel category is the main recipient of this affiliate "strategy". I did not see it in the floral industry but it could very well be on listings in other industries.
Do you think that MC has the right, legal, ethical or otherwise, to replace a business's phone number in their business directory with a number that provides them with a commission on every booking at the expense of the hotel?
Regardless, if you are hotel or represent a hotel, I would suggest that you head right over to Merchant Circle and claim your record.