Understanding Google My Business & Local Search
Google Maps + MickyD's =s McIrritating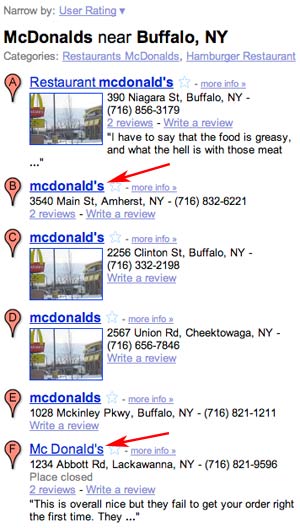 Google Maps Local Business Center has a few quirks.
One of those is how it handles names with two capital letters. Businesses sometimes spend millions projecting their names and are meticulous about how they appear in any media. It must be discouraging to firms like McAdams Floral in Victoria, TX and McDonald's that Google Maps does not properly handle their names.
Cathy Rhulloda, of Avante Garden Florals Unique, pointed out this particular quirk and the attendant posts in the forums that is has generated. If a business name has too many caps, the listing will be flagged and put in the queue for a content check. If however it only has one or two caps in unexpected places, like the middle of the word, it will just change the business name to all lower case.
The alternatives are to accept the lower case auto change or to separate the name into two parts. Irish names have this attribute and a certain number of high tech firms do as well. Some of the posts indicated that the problem has been fixed but but it appears that the "feature" is still afflicting some users.