Understanding Google My Business & Local Search
Google now integrating Streetview with your business listing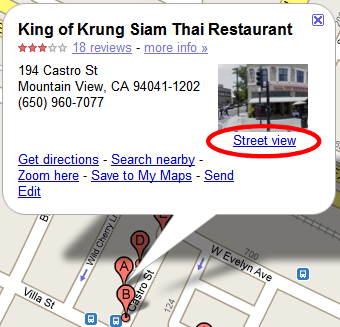 Google has announced in the Lat Long Blog that StreetView is now being associated with your Google Maps business listing in the info bubble.
The info bubble and pin remain in view as the user moves to StreetView, The pin is persistent even as the view "moves down the street" providing some context to the business location.
Previously one of one of your uploaded photos was placed in that position and presumably will continue to be so when a StreetView isn't available. The feature has yet to roll out to the hinterlands even where StreetView is available.
The update is interesting and holds promise to improve a users understanding of the on the ground reality of the business they are searching for. It provides a glimpse of what a Google augmented reality might one day look like and indicates a growing confidence on Google's part in the quality of their StreetView data. That being said, the devil here is in the details.
My experience with StreetView address geocoding has always been that it often resolves to a slightly different address than the underlying Google Map. This has the potential to create a certain disutility in Maps if the pin points to the wrong business location.
The photo realism of StreetView will imply to the user a certainty as to location that may not exist. For whatever reason, a pin on a Map is often perceived as a rough marker. A pin on a StreetView photo will be perceived as a totally accurate representation of reality even though the technology used doesn't make that possible
This could potentially lead to end user confusion and disappointment with the product. More likely, it will lead to small business anger if it points to a nearby competitor.
Google has always chosen which photograph was presented of the business but at least the business was able to choose which photos to upload. Now though, unless Google allows adjustment in the Local Business Center, the business operator not only looses control it may not even point to their business.
Google will never able to quell SMB fears and resultant anger as the pressures they face are often overwhelming. Google though, needs to realize that offering control to them is the next best thing.