Understanding Google My Business & Local Search
Is Google Overriding Title Tags with Business Name?
Is Google replacing Title Tags on the main Google results page with Business names?
I have a local client, Napoleon Engineering Services, that markets their custom bearing services nationally and into Canada. In the industry they often go by their "nickname" NES and are known as a high quality testing, inspection and manufacturing facility for custom bearings.
I am not sure if Google is experimenting or not but on a recent trade name search for Napoleon Engineering, to retrieve my client's phone number I noticed that Google had completely replaced the web page title tag with their business name from the Maps index.
Here is what Google showed in the result: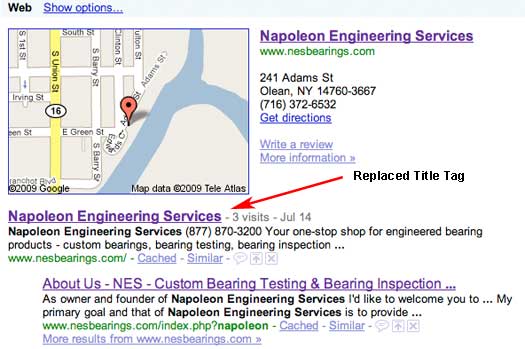 Google's cache shows the currernt tag: NES – Custom Bearing Testing & Bearing Inspection- home – ball bearing testing
How wide spread is this? Is it just an experiment?