Understanding Google My Business & Local Search
10 Pack Update affects Mom & Pop's, McDonald's, Marketers, MC & Mapqust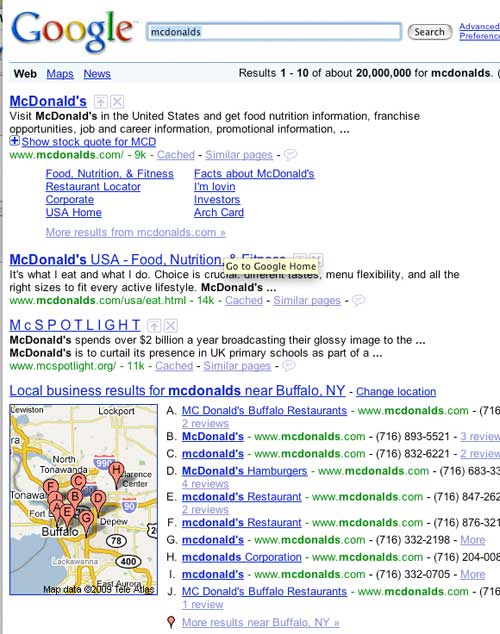 Update:: Google Confirms 10 Pack Expansion
Google's newest showing of Local results on non geo modified phrases will dramatically enhance the role of local data and of branded local data in search. Its impact will be felt every where from the local dentist to the largest retail brands in the US. It offers up the prospect of modifying the behaviors of businesses, searchers and search marketers alike.
From Mumbai to Missoula, from Mom and Pop's to McDonald's, from soccer moms to search mavens, from Mapspammers & Merchant Circle to Mapquest, all are going to feel the affect of Google's recent increase in showing Local results to non geo targeted, but locally relevant phrases.
Yesterday as news of the development spread, local search writers noted the significance of the increased role that local would play in search with descriptions like game changer, large implications, welcome development, reflects real user intent:

•Google Changes the Local Game (again) Matt McGee, Small Business SEM
•Every Search Is Local Now? Andrew Shotland, LocalSEO
•Google Now Showing 10 Pack w/o Modifiers Greg Sterling
•Now With More Local Mike Boland at Kelsey Group
David Mihm is seeing these results in England, Will Scott has seen them in India and reports from Netherlands, Australia and elsewhere indicate that Google has rolled out the expanded showing of the Local 10 Pack worldwide.
By showing local results on many more phrases with local intent, Local results will show orders of magnitude more frequently. Early research indicates that click thrus will skyrocket.
Here are some thoughts on who and how the many stakeholders in Local Search might be impacted:
| | | |
| --- | --- | --- |
| Category | Result | Impact |
| Mom Searcher | The naive searcher will be more exposed to Local, sooner | Maps will be exposed to huge audience that can only further cement its lead across all platforms |
| Maven Searcher | The expert searcher will be able to find that local shop with less effort | Will the trend in multi word searches start to decline |
| Mom & Pop Shop | The increase of exposure in broad category searches will increase call through significantly | The small retailers will be forced to notice and play in the Maps space. Where will they turn for customer support? |
| MapSpamers | Ah the temptations will be that much greater | Where there is a will there is a way, be prepared to see the underbelly of Maps all too often |
| Marketers | Optimized organic results will be pushed down the page | The impact for a time, of powerful organic optimization will be muted on those searches with local intent. Time to learn about optimization? |
| McDonald's | Fortune 500 companies will get increased exposure for their local franchises | They have for the most part ignored local. They will take notice and get serious about their local efforts |
| Merchant Circle/IYP's etc | The smb aggregators will be pushed further down the organic results | This will sorely test any entities that make their living solely on referrals from the SERPS |
| Mapquest | Mapquest will see another hit on traffic | More and more users will be driven into Maps to see what's what and stay around |
| Maps | Maps traffic will be pushed up | Are they ready for the Mapspam and increased customer service load? |
The impact is and will be widespread. There will be winners and some big loosers. There will be few in the Local search industry that are not affected by this change.