Understanding Google My Business & Local Search
Google Heatmap confirms value of Local 10 Pack Listing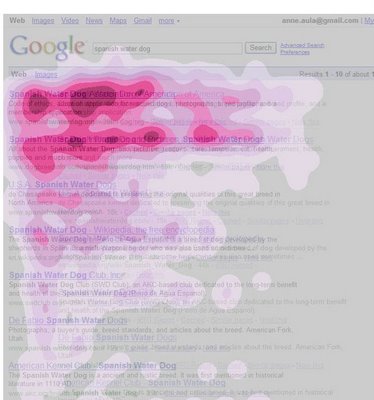 Google has released some results from their eye tracking studies at the Official Google Blog. The results confirm the value of having your listing show up in the Universal Local Results. 
From the entry:
Based on eye-tracking studies, we know that people tend to scan the search results in order. They start from the first result and continue down the list until they find a result they consider helpful and click it — or until they decide to refine their query. The heatmap below shows the activity of 34 usability study participants scanning a typical Google results page. The darker the pattern, the more time they spent looking at that part of the page. This pattern suggests that the order in which Google returned the results was successful; most users found what they were looking for among the first two results and they never needed to go further down the page.
When designing the user interface for Universal Search, the team wanted to incorporate thumbnail images to better represent certain kinds of results. For example, in the [how to tie a tie] example above, we have added thumbnails for Image and Video results. However, we were concerned that the thumbnail images might be distracting and disrupt the well-established order of result evaluation.
We ran a series of eye-tracking studies where we compared how users scan the search results pages with and without thumbnail images. Our studies showed that the thumbnails did not strongly affect the order of scanning the results and seemed to make it easier for the participants to find the result they wanted.
Google is confirming that the Universal results do not disrupt the typical scanning pattern of users and that even with thumbnails (and obviously other Universal results), users were able to find what they wanted at the top of the page.