Understanding Google My Business & Local Search
PanzerMike receives year end pardon – allowed back into Maps
On May 7th of this year, Michael Ehline aka PanzerMike, an LA personal inury lawyer, was banned from Google Maps for spamming. It was the first known Google Maps banishment for Maspam and at the time there were neither listing guidelines nor a reinclusion procedure.
PanzerMike has now informed me, via email, that he has once again been allowed back into the index. It has been over 7 months since he was banned.
———- Forwarded message ———-
From: Google Help
Date: Fri, Dec 19, 2008 at 11:10 AM
Subject: Re: [#341190868] Your Google Maps reinclusion request
To: "Law Offices of Michael P. Ehline, P.C."

Hi Michael,

Thank you for your note. After reviewing your history, we've reactivated your Local Business Center account. Please note that you may need to re-add your listings at this time. We appreciate your patience and your taking the time to comply with our guidelines in the future.

Regards,
The Google Team

Find answers, ask questions, and share your expertise with others in the
Google Maps Help Group at http://groups.google.com/group/Google-Maps
Listing guidelines  and a reinclusion request were announced in September.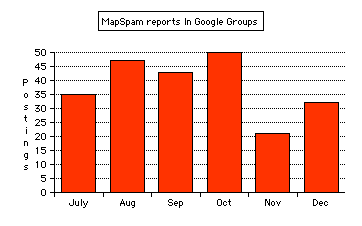 It is not clear whether the quality of Maps' business listing data has improved over the past 7 months. Since the thread to report Mapspam began, postings have averaged 38 per month in the group with a high in October of 50. There were only 21 in November and December has postings 32 month to date.
As David Mihm noted in his SearchEngineland review of the postings, not all of these reports are specific instances of Mapspam but the numbers might give a rough idea of the trend. I too am surprised at the relatively low & declining number of reports and wonder whether Google's action have led to an improvement or it is just the relative obscurity of the reporting mechanism. Whether the lower number of reports in November and December actually reflect a long term trend in Mapspam reports is yet to be seen.
Do you think that PanzerMike's banishment was appropriate? Have the Google's listing and banishment policies improved the Maps index? Have their policies had an impact on the volume of Mapspam?