Understanding Google My Business & Local Search
Microsoft Azure catches Google's PlusBox Blues
Microsoft Azure, Microsoft's cloud computing initiative, is at the moment vaporware, more ideas and flows charts than a product. Perhaps the reason for its yet unfinished status is that the office is but a corner table at a cafe in Freeport, ME.
Or at least according to the Google PlusBox, that is the case. When you  search for Microsoft Azure on Google, the PlusBox for the Microsoft Azure Website takes you to the Azure Cafe, near the L.L. Bean store. It may be terrible for Microsoft's productivity but it is great for morale and lunch breaks are a snap!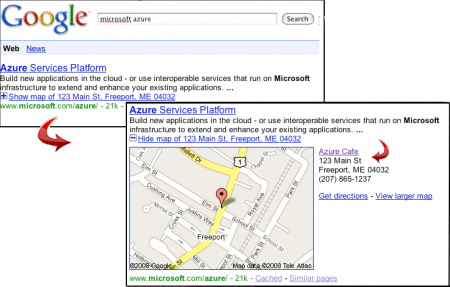 Reader Maarten Oosterink caught this example of Google's mistake in their PlusBox assignments and pointed it out to me. As I told Maarten, the PlusBox is a weird beast algorithmically. It predates the Local Business Center and relies on signals from across the web that Google uses to assign it to a search result, often times erroneously. This is great example of exactly how weird and error prone can at times be.
Fixing a erroneous PlusBox is no simple matter as Google offers no formal mechanism for correcting their mistaken assignment.
Correctly entering your business in the Local Business Center has no impact. Some businesses have had success chasing the problem down by locating the erroneous web references across the internet and some have had success getting a Maps Guide in one of Google Groups to remove it. 
For those of you that have a predilection for punishment here are some of my previous posts on on the pains of PlusBox purgatory:
• How to change your Business Address in the Internet Age
• 5 Simple Steps to fix the plus box (yea right)
• Google Plus Box – Where does the (wrong) data come from?
• Google and the PlusBox Blues