Understanding Google My Business & Local Search
Yahoo Local makes me feel good
Many small business people feel embattled, besieged and forgotten. The move toward the "free" business listings of the Internet has removed one monkey from their back – the FUD of the Yellow Pages only to replace it with the inscrutable Google Maps.
Small business people hate standing in line and begging for help ala Google Maps for Business Group. Why isn't my listing showing? Why can't I get in the category of my competitor? How come my competitor has the only OneBox on the search results? The questions are asked but not often answered.
At some level Yahoo seems to understand what SMB's feel better than Google. Last week after I modified a local listing with Yahoo they sent me this email: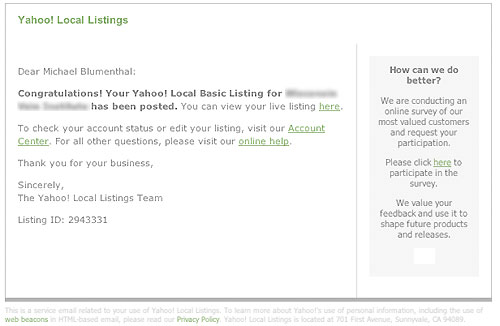 It made me feel good and I dare say would make most small business people feel the same. I knew that the listing was live, I had received an acknowledgment of my effort and they had reached out to me.
I recognize it for what it is: good but automated communications. None the less I felt a certain warm and fuzzy. There was a lesson to be learned here. I even took the time to take the survey and was further impressed. When taking the survey it seemed that they were sincere about wanting to know what I thought and that they did get what it takes to deal with small business folks.
Several of the survey questions impressed me and made me think that they do really get it: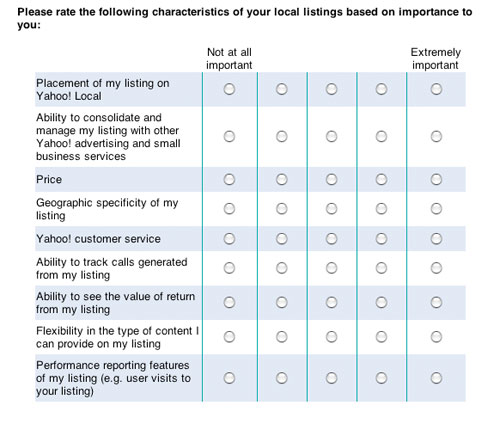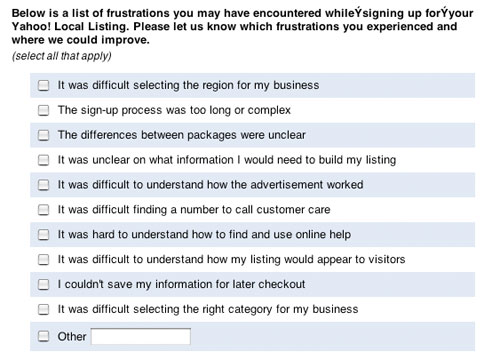 The survey pages were short and to the point. They are listed at the end if you would like to see each page. The takeaway for me was that Yahoo could make me feel good, without great human to human contact but with great communication. This is a lesson that Google has yet to learn.
While the small business person recognizes that they are not the most profitable link in Google's profit chain they do want to be recognized and they don't want to be ignored. The road to long term success in the Local market is to understand that SMB's are users, customers AND stakeholders. While they may or may not be the key to huge profit they will play a role in keeping the system working and they should not be ignored. They most certainly do not want to be taken for granted.
Google could learn something from Yahoo in this regard.
Yahoo Survey Pages: