Understanding Google My Business & Local Search
Yahoo Local Mapspam now appearing near you
I have not paid much attention to Yahoo Local over the past few months. It isn't as interesting to me as Google, it lacks the intriguing technology of the Local Business Center, its algorythms seem simpler and it generates less traffic and thus plays less of a role in my client's sites.
The simpler input and verification procedures make it painless and quick for a business to get listed in the Yahoo Local database and rank fairly highly. Apparently though, that simplicity can lead to Mapspam as well. While the Mapspam on Yahoo is not as widely spread as Google's was, it is harder to spot, there are fewer options for reporting it, and Yahoo seems less willing to pull it down.
The folks at the FloristDetective.com have been doing a number of pieces on the tricks and tactics of non local order takers in the florist business. Many of those practices are border line actions that imply that a florist is local without actually stating it…like getting a local exchange phone number that transfer to a head office who knows where. These are clearly deceptive practices but once they get the local phone number, the data flows through the phone company to Google and Yahoo and the presumption on the engines' part is that they are legitimate local listings. They will frequently show up in Google with a pin but no address associated with the listing.
Recently though, RealFlorist.Flowerchat.com have uncovered more obviously deceptive listings in Yahoo where the entity will fabricate an address that is close to the city center (gaining ranking cred), provide a very relevant fabricated business title with City + Florist in the title (gaining more ranking cred) and adding a number of reviews (gaining still more ranking cred) to jump to the top of the local rankings for a popular search term in the larger cities like New York Florist, Los Angeles Florist or San Francisco Florist.
In each of the above cases there is clear evidence on the web that the local address is fake. In the spirit of journalistic integrity I called a number of other local florists close to the listed florist to see if there was a florist located at any of the above addresses and uniformly the answer was: No.
Here is the evidence for just one of the bogus listings, on the search for New York florist at Yahoo (note the distance, name and phone for the first local result):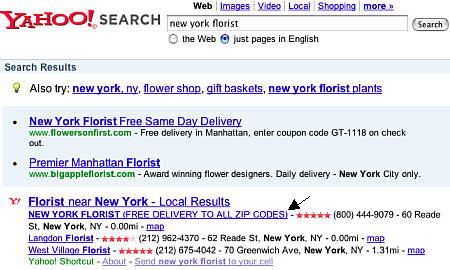 Langdon's is in fact located at 62 Reade St (see photo) however 60 Reade St. is not a florist but a shoe store. When I called Langdon's to verify that there was no florist next door to them, they thought I was nuts (in typical NYC fashion), but confirmed that there was in fact no florist next door. A telling search is to search on the "(800) 444-9079 + New York, NY" or "(800) 444-9079 + Los Angeles CA" where you see some of their other lisitngs: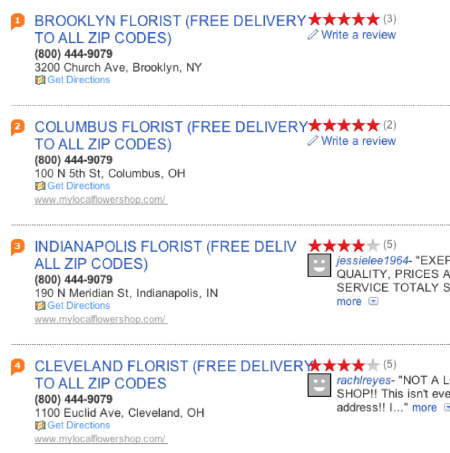 Calls and Google Streetview analysis showed a McDonald's for the San Francisco Florist listed on the Yahoo San Francisco Florist search and similarly a blurry federal building for the Los Angeles Florist search. Although both locations "proved" to be very close to the city center.
Unlike Google, Yahoo's Terms of Service clearly seem to prohibit this type of listing:
You agree to not use the Service to:
impersonate any person or entity, including, but not limited to, a Yahoo! official, forum leader, guide or host, or falsely state or otherwise misrepresent your affiliation with a person or entity;

upload, post, email, transmit or otherwise make available any unsolicited or unauthorized advertising, promotional materials, "junk mail," "spam," "chain letters," "pyramid schemes," or any other form of solicitation, except in those areas (such as shopping) that are designated for such purpose (please read our complete Spam Policy);
Yahoo's policy further prohibits:
intentionally or unintentionally violate any applicable local, state, national or international law, including, but not limited to, regulations promulgated by the U.S. Securities and Exchange Commission, any rules of any national or other securities exchange, including, without limitation, the New York Stock Exchange, the American Stock Exchange or the NASDAQ, and any regulations having the force of law;
It appears that this practice is in fact illegal in 22 states. (see story on PA here). The article on Pa notes:
According to a news release from the governor's office, the law, Act 164, prohibits a supplier from misrepresenting its geographic location by listing a fictitious or assumed business name in a local telephone directory that:
fails to list or identify the locality and state of the supplier's business; and
forwards or transfers calls to a business location outside the calling area covered by the local telephone directory; or where
the supplier's business location is located in a county which is not contiguous to a county covered by the local telephone directory.
The irony is that Yahoo provides even less of a forum to report these listings. Their only forum is an apparently unmoderated suggestion box. Although Yahoo does allow the public to "edit" the record and indicate that the business has "closed" or is no longer at the address stated. It appears that the local folks in the florist business have posted negative reviews but…if the Yahoo alogo works anything like Google's and ranks based on volume of reviews, this would be very counter productive.
In the past I have opined on the ability of these local data sources to provide reasonably accurate results and generally improve their quality over time. I hadn't really thought about spam and the incredible monetary incentives to pursue it. It's non fattening, its sorta of legal (its not clear that the laws cover Yahoo), it certainly is not actively discouraged (and some would say it is encouraged) by Yahoo (and to some extent Google) and obviously profitable. In a very short time, it could make local results useless, particularly in businesses with an affiliate model like FTD.
Maybe I could write a Get Rich Quick Guide to Local, create a dynamic late night infomercial and if I can just get listed in every major zip code, and retire at 55.