Understanding Google My Business & Local Search
Google Map's medical center phone data: Code Red!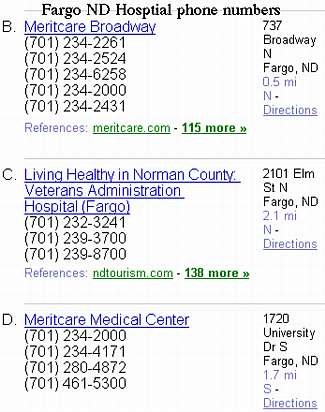 Last month there were reports of errors in Google Maps listing for Duke Medical Center phone numbers. Not only were the numbers often times wrong but Google Maps was listing as many as 5 phone numbers for a single facility, few of which went to the central switchboard. To Google's credit the Duke Medical Center situation was resolved rapidly on an individual basis.
When an additional report surfaced in Google Maps for Business Owners from NYU Medical Center, I decided to investigate the depth of the issue and see if was isolated to large teaching centers or was more widespread throughout the medical listings.
The report from NYU reported not just multiple and wrong phone numbers but wrong map locations as well. Google's new feature in the Local Business Center, allowing the movement of Map markers, will facilitate some corrections about location but not the problems with phone numbers. Most medical centers have difficulty complying with Google's protocol for record correction as they have multiple mail stops making delivery of the PIN card unlikely and multiple phone lines making a call for verification almost impossible.
My assessment?
The medical center phone data is in critical condition and in need of intensive care. .
Only 2 of the 13 markets did not have listings showing 4 or 5 phone numbers. 18% of all listings showed 3 or more phone numbers despite low verification rates through the Local Business Center. And if you live in Fargo, ND it appears by Google's account that there are more medical phone numbers than there are doctors.
When I found 5 phone numbers listed for a hospital, I spot checked by calling some of the numbers to see where they went and if the answerer had received erroneous calls. In very limited tests, the numbers went to a department rather than the main desk facility listed and noted receiving a fairly large number of wrong number calls. I think it is safe to assume that any facility with 4 or 5 (and likely 3) numbers listed probably has numbers not for the main facility or that are in error.
The fact that none of the medical facilities with 3, 4 or 5 phone numbers listed had yet to claim the record in the Local Business Center shows: 1)that there is a possibility that they will get cleaned up and 2)that it is a ways off. Another (perhaps more real world) test of the quality of this data would be to see if the single number that Google picks for these records in the Local OneBox is the correct one.

Methodology
I identified 6 mid sized cities that might have advanced medical services and searched on the phrase "Medical Center + City, St" and 7 smaller cities for the phrase "hospital + City, St". To facilitate the testing I used the Google URL that delivers maps in plain HTML – http://maps.google.com/?output=html. This allowed a quick assessment of the extraneous phone number issue as all numbers were shown directly below the specific listing rather than in the pop up box.
Here are the searches:
In most, but not all, of the listings the details in the record were provided by the Superpages or ahd.com. There were some records with additional detail providers (BBB, Talking Phone Pages) as well a some records with multiple phone numbers that had no recognized source for details. So it isn't a single source clearly causing the problem but rather implies that Google's algorithm for matching phone numbers and records doesn't work very well in this situation.
The issue of accuracy in Local Search affects all providers of search including (but not limited to) Google, Yahoo, Ask, Superpages, AOl etc., etc.. Google though, by virtue of their market dominance in search and the inclusion of the local results on the Local Onebox gets more scrutiny than the others. Ultimately, for the public to broadly embrace AND rely on local search, the issue of accuracy needs to be solved.