Understanding Google My Business & Local Search
Google Upgrades the Local OneBox Results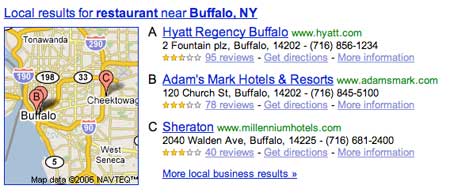 Google is now presenting an enhanced local onebox that includes a map and more details from their Google Maps database. The effect of the change is to totally dominate the main search results with details about the top three local businesses. There are a number of additional options to access more information & directions from their Maps as well.
Certainly the higher visibility will increase general market awareness about their Maps product. The increased links into their local database will likely lead to an increased use of their Maps product for directions, reviews etc. (If you are like me and have already forgotten what the "old" onebox looked liked you can see it here.)
However, the increased attention will also point a bright spotlight on some of the failings of their local product and increase the small business cacophony of complaints. They are a vociferous lot indeed.
The image above clearly demonstrates one of the flaws…the inability to deliver up restaurants instead of hotels when the searcher is looking for restaurants. In a quick survey of 10 major cities, this problem occurred in 3 of them. Google's inability to keep reviews updated and maps correct will only be more evident.
I am a fan of Google Maps but their vapid response to complaints and their slowness in delivering a mature product will wear thin quickly with this new emphasis on local results.