Understanding Google My Business & Local Search
Redemption in the Gilded Google Age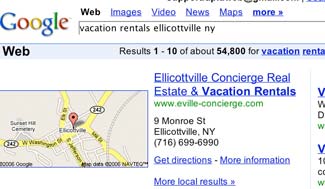 In early October I wrote a post about achieving a "an automatically expanded Plus Box" for a client on a valued search phrase (Vacation Rentals Ellicottville NY) BUT having the url Google had associated with the listing pointing to their competitor. After postulating conspiracies and incompetancies on the part of all but myself I determined that I had neglected to enter the client's URL in the Local Business Center and Google, in its best guess, had made a not so harmless assumption.
I immediately attempted to fix the problem by:
-Correction the local listing in the Local Business Center
– Submitting to Google on their Dissatisfied? Help us improve link.
I didn't report the aberation to the client preferring the wait and see chicken approach. From experience I knew that local updates might take 2 to 3 months which would have meant that the client would have missed the bulk of her rental season sending visitors to her competitor site. Fortunately, yesterday (and perhaps sooner) Google rectified my mistake and their best guess and associated the listing with the correct url. It took something less than 3 weeks.It appears that the "fix" was affected by Dissatisfied? Help us improve link as the Local Business Center still notes awaiting next update. It is comforting that Google which seems so algorithmic and distant actually has someone reading their email.