Understanding Google My Business & Local Search
The road to Google Maps Nirvhana is paved with good intentions
In mid- July Search Engine Roundtable noted in a posting that Google Maps results with the map included were displaying prominently in the Google Organic results. Clearly for anyone attempting to optimize for local placement this possibility brought up images of the promised land.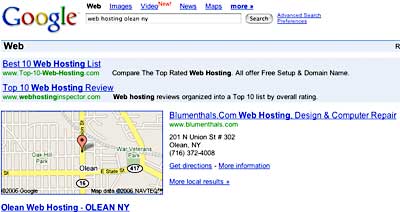 I experimented with tweaking our own listing and in our first listed category out of the 5 categories I had entered we succeeded in having our local listing include a map (and exclude other local listings from the front page). I followed my local guidelines and was able to achieve this ideal placement. That being said I do not fully understand exactly why the listing was upgraded from the normal 3 local text links that appear on the main search result.
But as they say: pride cometh before a fall…
I came into work the other day and was reviewing a local client's vacation rental listing and to my surprise and pleasure it had achieved a similar ranking. I was quite happy with myself and immediately called the client to see the listing in all of its glory. The clients name, address, map and webpage dominantly displayed just in time for her peak season.
But wait a minute! After showing it off to the client I noticed a slight aberration. It had the wrong URL associated with it. Not just any URL either but that of her arch competitor. My first thoughts ran to Google incompetence and then on to skull duggery by her nemesis.
Like many of our species I was all too ready to look for blame that wasn't mine. I decided to go back and review the original listing that I had made many months before at the Google Local Business Center and after a few moments I realized that I had neglected to enter the clients URL in the correct field at the time of initial entry. And in this void Google had made their best guess..hmmph!
So like many cautionary tales the fault here lies in the simplest of human errors. And as is also the case mine not someone else's.