Understanding Google My Business & Local Search
Google Releases New Support Forum Platform
The Google My Business Forums and most other Google product forums as well are in the process of being upgraded to a totally new forum software. Like with every Forum upgrade that Google does, its one step forward and 2 (hopefully) back. Here is the Google My Business Forum announcement and they note:
Our new design is focused on making it easier for you to find the answers you need and ask questions in Google Product Forums.
There are two main types of pages:
Topic pages that focus on the content you need to see: the question, any best answers, and all replies.
Lists of topics that you can browse, filter, and search to find the information you need.
They are promising rapid iteration to add missing features but promise that this new forum will be faster and less filling.
Pinned topics will be significantly more visible as they reside at the top level of the forum (a good thing):

And new posts will from across the forum will also be highlighted at the top level with the ability to segment them if needed. They will also show whether other top contributors have already replied minimizing the work of finding posts needing answers: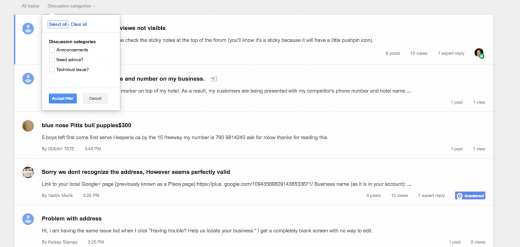 The biggest shortcoming for frequent posters will be the missing saved answers that can dramatically improve top contributor efforts. Apparently users will be able to return to the previous format until Google is confident that the major bugs are quashed.
The new format is only available for desktop and tablets with a mobile version TBA. In the meantime mobile users will be stuck with the current, can't replace it soon enough version.
Your thoughts?