Understanding Google My Business & Local Search
Google+ Promotes Publisher Tag for Local Listings
Mia Culpa: Due to carelessness and haste I originally published this article indicating that Google was promoting authorship.. My thanks to A. J. Kohn for highlighting my error.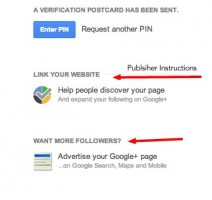 With the developing Google+ Local management interface Google is now actively supporting and encouraging Publisher Rich Snippet Tags for Local listings. Last week we saw that Google was using the new interface to promote Adwords Express Plus, now they have added a feature to encourage businesses claiming their listing to implement the publisher feature. It leaves open the question of whether Google thinks it is spammy to include authorship on a local website but makes clear that Google thinks every local site should implement the publisher tag.
The interface provided is slick, simple and avoids all discussion of technicalities that could be involved in establishing a publisher relationship. It gently instructs the business as to how proceed and if they are flummoxed by the task of inserting the single line of html onto their site, they are given the option of emailing their webmaster with instructions. A single button test of the install completes the circle of simplicity.
Clearly Google is not just highlighting rel=publisher for local but is making it incredibly easy. It is apparently an effort to get as many business to use it as possible. The interface is refreshingly clean and functional. A nice change from the interface kluge that is the current dashboard and a refreshing alternative to the historically complex ways of implementing this feature
It has been a long and tedious struggle living with Google local over the past several years. It reminds me of the maturing of a petulant teenager as he/she seeks their own path in life. Google's rapidly developing G+ Local Interface may just grow up to be a fully functional adult in the local space. There seems to be more than a glimmer of hope.
Here are screen shots & feedback from the process: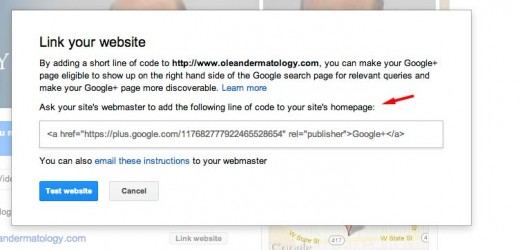 When you select "email these instructions" Google sends the following email to your webmaster:
Dear webmaster,
I'd like you to link:
http://www.oleandermatology.com
to the Jaremko William M MD Google+ page:
https://plus.google.com/117682777922465528654
Do this by adding a link to your website's homepage, as in:
<a href="https://plus.google.com/117682777922465528654" rel="publisher">Google+</a>
For more information, visit http://www.google.com/support/+/?p=link_page_to_website&hl=en
Sincerely
When you test the publisher code from your site there is a simple feedback mechanism advising you of whether it was done successfully.