Understanding Google My Business & Local Search
29Prime – Would you Buy a Used Car From These Guys Let Alone SEO?
This is a cautionary tale to 29Prime's remaining 8000 clients. If this company abuses their own Google Places listing imagine what they might be doing in your name.
Let me be upfront with my bias.. 29Prime is not one of my favorite companies. And I have in the past commented on their abuse of Google Place's reviews to hide the reality of who they really are. But reader Dave Middleton pointed out that in addition to abusing Google Places's review policy they are also abusing the Google Places Guidelines as well by adding a tagline to their business name in their Places listing: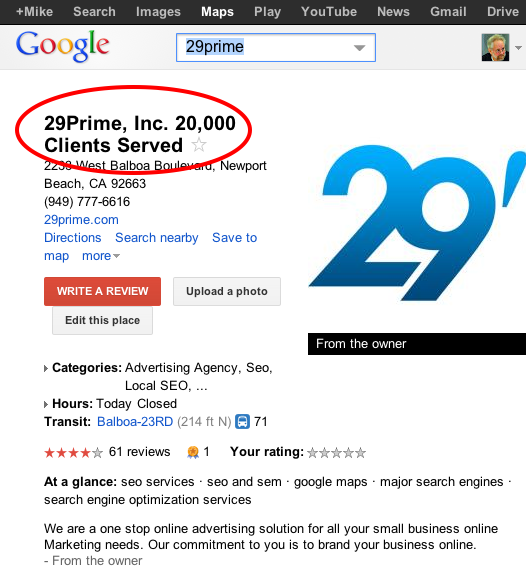 Their claim of having served 20,000 clients, while an abuse of Google's guideline against tag lines in the business name, is an interesting one. Linda Buquet pointed out one of their recent PR releases where they claim to have a current client base of more than 8,000 small business owners. The article notes that they were founded in 2010 (although their website notes a start date of 2007 and the domain was claimed in 2008).
If we take their most recent word at face value (Tough I know but..) and assume (for the sake of simple calculation) a May 2010 founding we can get a sense of their churn. They have lost 6000 customers a year. It would appear that they have lost 1.5 clients for each one still claimed to  be under contract.
Still curious I wanted to see who actually owned the building that they show on their website as their presumed location so I typed their address into Google Maps to look at the Streetview of their location.
OOOPS. Turns out they violated another Places guideline and claimed their listing at the local UPS Store. The address, 2233 West Balboa Blvd # 115, Newport Beach, is the same one used in their Whois record and their website. This was no accident.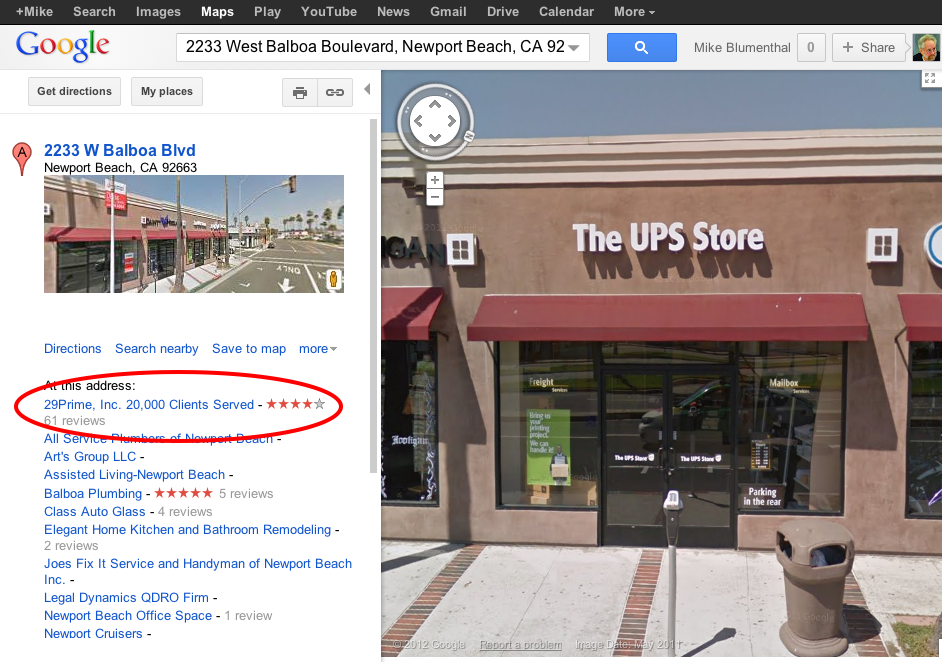 Still not convinced about 29Prime's ethical behaviors? The image of their HQ on their website appeared to have been photoshopped so I dropped it into Google image search to see what I found.
Surprise! They seemed to be "occupying" the Unisys offices at 9701 Jeronimo RD Irvine, Ca. They may in fact be at that location occupying some space but the building most definitely isn't labeled as 29Prime and they are but a renter. Hmm, stranger and stranger.
To any client of 29Prime: If these folks can't get their own marketing story straight, how can you expect that they will get yours straight? They are obviously violating Google Places guidelines, run the risk of being suspended, are gathering fake reviews and are photoshopping images on their website that have one intention, to imply that they are more successful than they really are. Their churn rate is at best disturbing. They are willing to "cut corners" (to say the least) on their own marketing, can you really trust them with yours? Or will your listing end up suspended like theirs is likely to be?
Just for the record here is the image from the website and an unretouched image of the same location reflecting the actual occupant. It appears that they didn't even take the time to take an original photograph and just used the one from the Wikipedia article on Unisys. They did appear to have adjusted the colors.
How many corners can one company cut?