Understanding Google My Business & Local Search
Google Releases Brilliant (& Creepy) New Feature to Crowd Source Business Photos
Local Guides will be able to have photos that they are taking of local businesses "automagically matched" and added to the business listings from their Google Photos collection. The feature, first released on Android but soon available on iOS, only requires you to "turn on the back up and location features in Google Photos to have your photos of places appear in the Contribute tab of Google Maps."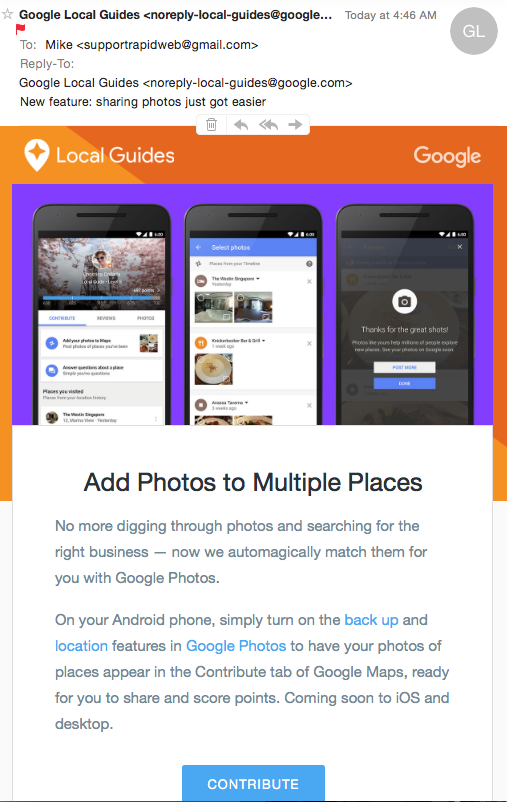 When Google Photos was introduced a year ago I noted in my article Google Photos- A Visual Graph of People, Places and Things. Can It Become Their "Everything Graph"? : Almost every photo these days comes geotagged so Google knows, at least within a 100 feet or so of where it was taken. They don't yet auto assign a specific [business] location but they show incredible accuracy in auto assigning the photos to a city level. I assume that Google has more granular insights but has not yet turned them loose for fear of a privacy backlash.
So much for that fear.
Google Photos is one of those brilliant tools that shows Google at its very best and its very creepiest with its use of AI, machine learning and the ability to dig deep into your phone to surface additional details about businesses that you are frequenting.
And now with a little gamefication (Local Guide points), the offer of some free storage and some very sophisticated technology Google has unleashed one of the worlds most amazing geo-photo crowd sourcing projects ever.