Understanding Google My Business & Local Search
Local Guides: A Yelp Wannabe or Uniquely Google?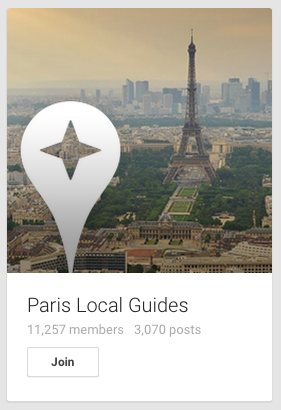 Many in the local search space have characterized the Google Local Guides program as a cheap imitation of Yelp's Elite reviewer program. I suppose in some sense that is true but it appears to me that Google is bringing their own approach to the program and scaling it aggressively in a way that seems uniquely Google.
Google has done this before with their support forums and with MapMaker. They have managed to entice and incentivize large numbers of users world wide to engage in programs that help Google scale their products, gather data while simultaneously helping others in their respective communities. And doing so in a way that creates brand ambassadors that seem all to ready to drink the Google Kool-aid.
Having attended the recent TC forums in NYC I can attest to the fact that the many volunteers there were fanatical in their approach to all things Google. On the one hand I was embarrassed by the unthinking love of Google by many of the attendees while on the other I was in awe that Google had managed to capture such loyalty and to have embraced it at such large scale.
The Local Guides program replaced their City Experts program earlier this year and seems to be striving for that same sense of building out a scalable, love fest. City Experts was in my mind, much more like a combination of Yelp's City Managers + Elites in that it required Google people on the ground to lead the effort in every city. By reaching out to users at all levels of review writing, Google can expand both the reach of the Local Guide program into many more markets and the depth of the program to reach many more users. And do so with very few staff people or perhaps the same number as in the City Experts program.
Has it been successful in its short life? It would appear from the G+ communities that it has. There are nearly 3000 members of the private Local Guides Community on G+. This community is limited to reviewers that have signed up for the program and review more than 50 locations. I have no clue how many Yelp Elites there are but 3000 active reviewers, many who have written more than 250 reviews can become a powerful force.
But the other communities appear to be active and vibrant as well.
Just in these four communities, Google has attracted 29,000 folks that are interested in those cities and in writing and reading reviews about them. I assume some of this success is from the transfer of users from active City Guide programs in those cities. The other cities on the list have not been as successful at scaling but the program has been in place less than two months.

If Google can incentivize the reviewer who leaves 1 review to leave 5, the ones who leave 5 to leave 50 and more importantly the ones that leave 50 to leave 250 then there will be both a quantitative and qualitative impact on Google's review corpus as well as the general perception of Google as a good place to leave reviews. And that desire seems to be present in the posts that I have read in the private Local Guide forum. Comments like "I just got my #LocalGuideBadge! Way cool!" are not uncommon and the members all take their charge of helping others very seriously: "If anyone is ever in #leeds #uk please give me a shout for recommendations where to eat!" . Its hard to put a value on that to Google in general and their efforts to get more reviews in particular.
Here is a copy of the recent Local Guides newsletter: