Understanding Google My Business & Local Search
Google Local SERP Results Change Again
Last Thursday, Google shifted the pack display (Blended Results) from mostly blended with large pins to the smaller pin display (Map Packs) with locally driven ranking (ie Maps order) rather than organic driven ranking. Last night they switched (thanks to Nicolai Helling) the display of the pack back to a larger pinned display. So far at least, Google has retained the local, map based rankings rather than driving the results order from organic rank (Blended Map Insertions). The switch last week and the switch last night were apparently world wide.
Because the blend is not occurring, home (authority) pages are still able to show as a separate organic result in the SERPS and not be merged into the local result. Because the current results are not blending you are also NOT seeing author tag or title tags integrated into the local result.
This type of display (Blended Map Insertions), looking like blended results but being primarily based on Maps order, have been ever present over the past two years constituting roughly 24% of pinned results. They were seen mostly in the restaurant searches and to some extent in the locksmith searches. Today at least they are displaying at 100%.
The positioning of the pack under blended results typically started anywhere in the first four results. With the current state of the local display most of the pack results are inserted at postition four. In a small sample of ten searches, eight started at position 4, one search started at position 2 and one started at position 6. I assume that a larger search sample would show a similarly broad distribution with the bulk of pinned results starting at position 4.
Are Blended Results going away? If you had asked me yesterday I would have said yes. Today, I am not sure so of anything other than that we are in the midst of both display and ranking shakeups and where it will settle is anyone's guess. Its hard to know exactly what is going on and even more so why. This change which started last Thursday seems to be continuing.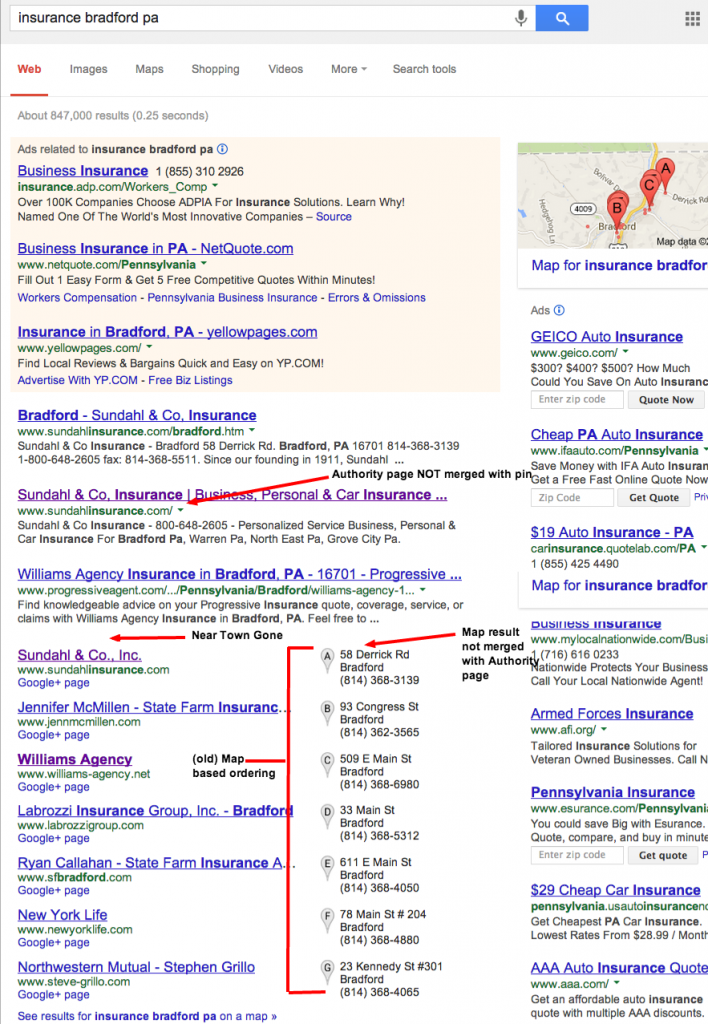 Nicolai pointed out in the comments that Branded searches for multi location entities, that have been shown as the small Map Packs forever, are also now using this same format: