Understanding Google My Business & Local Search
Google Looks to Keep Local Users at Google.com With Two Interface Updates
Google has had a busy week on the local front. The most significant of these updates are two new local interface conventions in the main search results. Clearly Google wants increase the visibility of their reviews and it is going to do so by keeping users on their front page.
Yesterday Andrew Shotland started seeing the local pop-up that provides review content directly in the main search results rather than requiring a user to head over to the G+ Page. According to Google this interface change is being rolled out universally. It is currently not seen by all users but will soon be visible by all and is a permanent change. Here are screenshots from Scott Rowley on G+.
The other major change is in the new Local Carousel. First written about yesterday by Dan Leibson, Google has added a faceted search facility to the carousel that allows users to discover and recover listings by ratings directly from the carousel and in the case of restaurants by pricing and cuisine as well. This feature was first seen in some of the early tests of the Local Carousel but seemed to have been dropped in the initial rollout.
Once a search is modified by rating (and in the case of restuarants, price and cuisine) a branded search results. One assumes that even on those the reviews will then be visible from the front page in a pop up.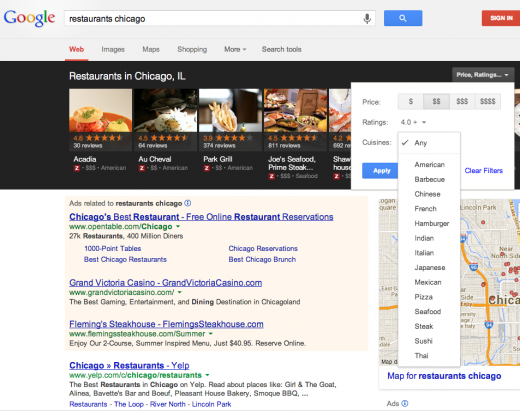 When viewed in conjunction with the new City Expert program, one has to conclude that Google is looking to not just increase the visibility of reviews but to increase their quantity as well. With the bulk of a business information appearing in the side panel and the ease with which one can now view reviews on the front page, visitors will have fewer reasons to visit a businesses Plus local page from the main search results.
Small businesses will likely feel the sting and as Darren Shaw asked will also ask: "Why is Google abandoning their Plus Local pages?" I think that Google is looking to capture readers for a longer period of time at their main search results rather than "abandon" Plus Local pages. The reality is that many, many more readers are on the front page of Google than ever make it into a Plus local page. If Google can increase engagement on the home page by 2% that would far exceed even a 50% increase of engagement on a Plus local page in terms of "time at Google". Perhaps Google thinks that the lost traffic to Plus Local page will be made up by increasing social content. Most small businesses will need to think long and hard about how much time they put into making the Plus page more engaging.
With the rollout of the knowledge panel the Plus local pages became largely irrelevant to searchers with the exception of reviews. Now that reason is gone as well. With these two more interface changes users will be more trapped "engaged" in Google's world and will be less tempted to visits other sites.