Understanding Google My Business & Local Search
Hitwise: Google Maps passes Mapquest
Compete.com showed Google Maps overtaking Mapquest in visitors in January as did Comscore. At the time Hitwise showed that Maps as nearly passing Mapquest but dropping back. As recently as last week Hitwise indicated that Mapquest was still in the lead but that gap was closing.
Heather Hopkins of Hitwise took a fresh look at the numbers over this past weekend. Google has now surpassed Mapquest in monthly visitors.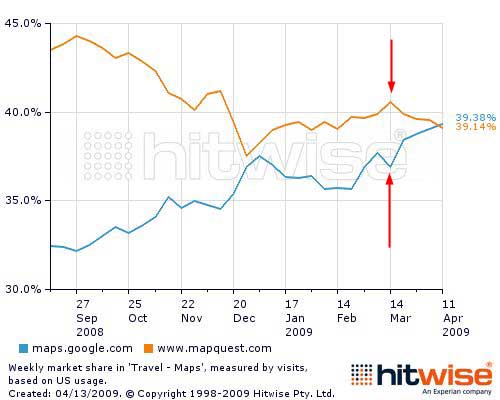 It is of interest that starting on March 14th, Google Maps shows almost a month of sustained gains while Mapquest shows an equivalent drop. It would be a reasonable to assume that the date coincides with the start of Google's expanded Local rollout.